New products: 1- and 31-channel QTR HD reflectance sensor arrays
Posted by
Jan
on 31 August 2018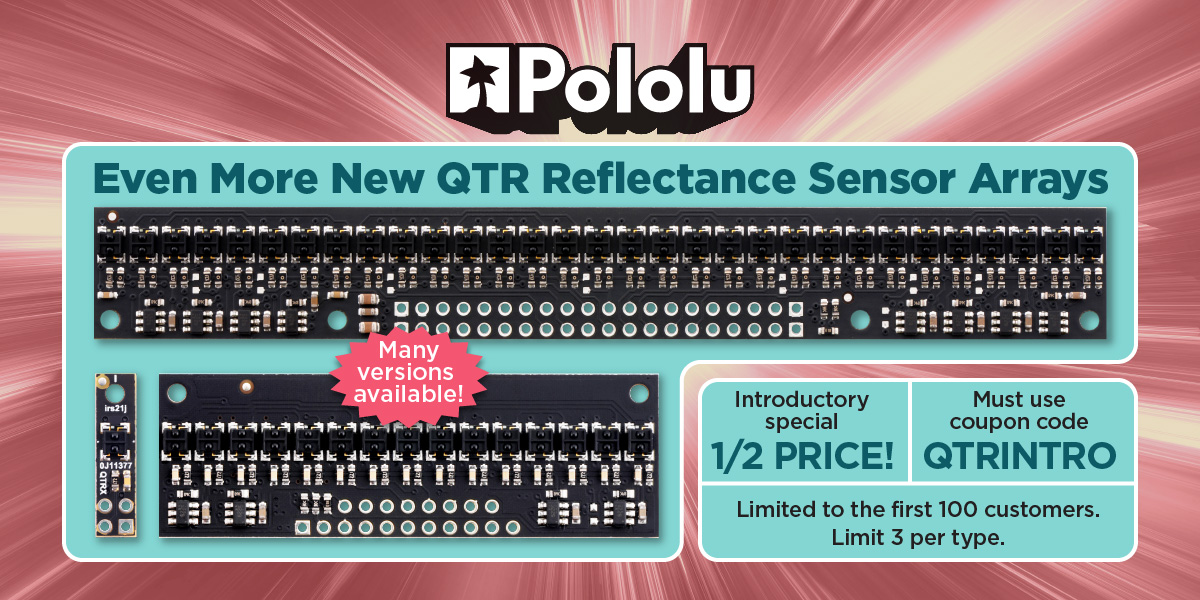 This week, we released what we expect to be the extremes of our new line of QTR HD reflectance sensor arrays, with two sizes of a single-sensor board on the small end and a massive 31-sensor array for the maximum size. This picture shows the relative sizes of the boards, along with some of the intermediate sizes we have available:

The QTR Reflectance Sensor Arrays are available in many different sizes.
We made the two single-sensor sizes because we could make good arguments for each one. Part of the point of doing a single-sensor board is to make it really small, so you can fit it into tight spaces. But "really small" means different things depending on the dimensions you care about. So we have one version that is only 5 mm (0.2") wide, with components on both sides of the PCB, and one version that is 7.5 mm (0.3") wide, with components on just one side. The 7.5 mm wide version is a little thinner and flatter because it doesn't have parts on one side, can be used with a 3×1, single row connector, and costs slightly less because of the single-sided assembly.
| | |
| --- | --- |
| QTRX-HD-01RC Reflectance Sensor, front and back views. | QTRX-MD-01A Reflectance Sensor, front and back views. |
As I mentioned in some of my earlier posts (here and here) about this new line of sensor arrays, we are using two sensor types: more economical units we are calling "QTR", and higher-performance units with lenses that we are calling "QTRX". The main appeal of the QTRX sensors is that they can give the same readings at much lower IR emitter currents, which can really make a big difference for big sensor arrays. But if you crank up the current in those QTRX sensors, you can also get more distance. We did not do that on the QTRX arrays because the sensor modules leak light out the sides and interfere with each other when they are closely spaced, but with these single-channel boards, we are also making available the QTRX sensors with the higher 30 mA maximum emitter current, which allows for a range of up to about 8 cm (about 3 inches). We are calling these sensors QTRXL.
This video (taken with an old camera that does not have as much IR filtering as most newer cameras) shows the IR light leakage around the side of the QTRX sensor module:
I should point out that all of these new QTR modules offer variable brightness control by varying the current through the emitter using the control pin. However, if you want to take advantage of the maximum brightness and range, and have several sensors close to each other, you will need some barriers between them to prevent them from blinding each other (or just turn on one emitter at a time).
The 31-sensor arrays are huge! Well, at least compared to the tiny single-sensor boards.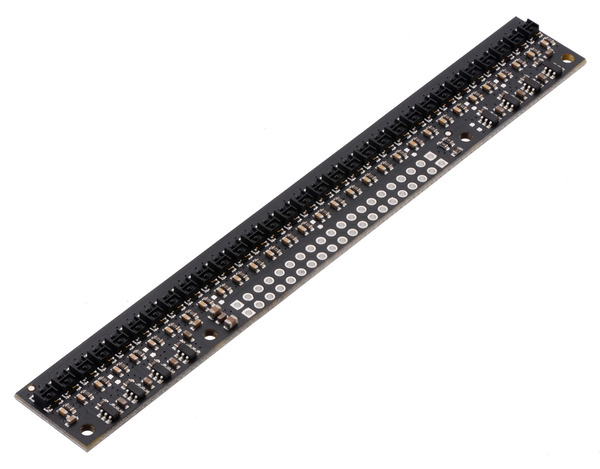 QTRX-HD-31RC Reflectance Sensor Array.
The routing on those boards is quite complex because adjacent IR emitters are not just wired in series (because we want to have separate even/odd emitter control, plus the alternate density population options I discussed in this post), so we ended up having to go to a 4-layer PCB to route it. This did let us make the vertical dimension a little lower, so the board is just 16.5 mm tall, compared to the 20 mm board height for the versions with 15 and fewer sensors. The 31-channel board is also 0.062" (1.6 mm) thick, compared to the thinner 0.040" (1 mm) boards we use for the lower channel counts. You can compare all the dimensions of the various boards in the detailed dimension diagram (1MB pdf).
The sixteen new boards we released this week brings the total available in this new QTR HD product line to 40. You can see the options neatly summarized in the tables below to pick the best array for your application.
Our introductory promotions are still going strong! Be one of the first 100 customers to use coupon code QTRINTRO and get any of these new sensors at half price! (Limit 3 per item per customer.)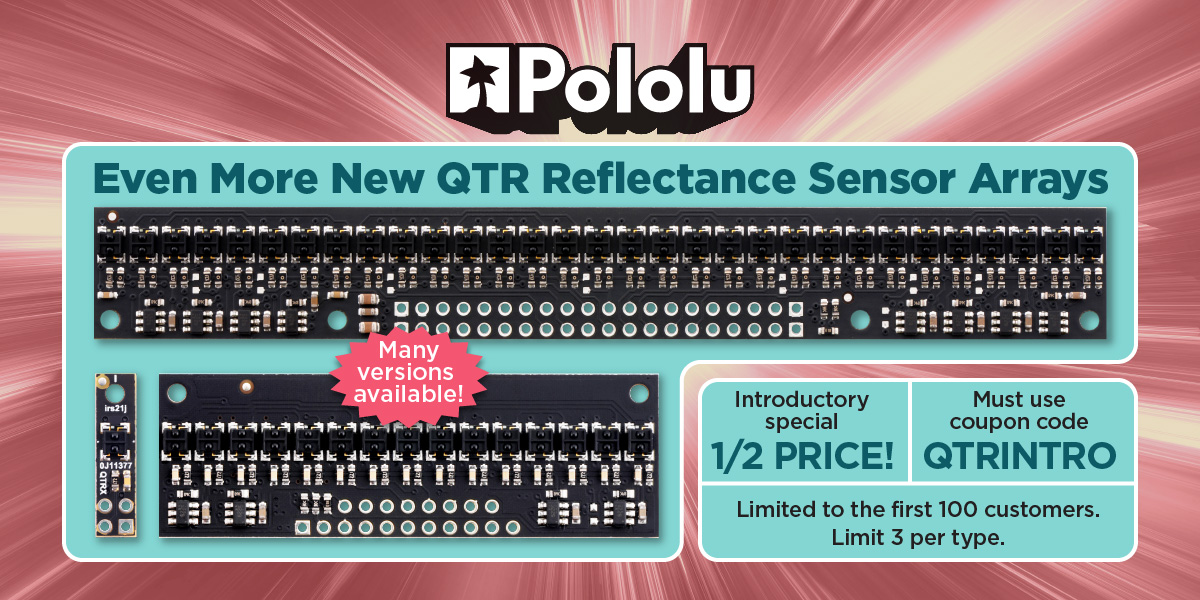 0 comments
Post a comment