RC crawling skeleton
Posted by
Grant
on 19 October 2018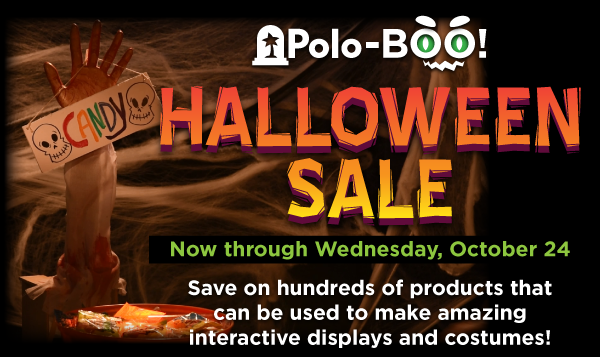 Our Halloween sale is still going strong! Visit the sale page for more information, and if you are in need of some inspiration, check out our Halloween-tagged blog posts for some sample projects, like this simple RC crawling skeleton that I made:
The setup for this project is pretty straightforward: a hobby RC transmitter sends signals through its receiver to a pair of Simple Motor Controllers, which each control a 37D mm gearmotor. The motors mount to a wooden base with a pair of L-brackets and connect to skeleton arms via universal aluminum mounting hubs and a short length of aluminum plating. The offset created by the aluminum plating causes the skeleton to move in a way that makes it look like it is slowly inching towards its next victim!
A 3S LiPo provides power to the system through a pair of XT60 connectors, and the RC connections are made through some spliced female-female premium jumper wires. A black T-shirt covers up the electronics and a pair of cardboard "shoulder pads" help ensure the tee does not get tangled up in the rotation of the arm-bones.
In practice, the crawling skeleton is more amusing than scary: it crawls really slowly and the sound of the motors turning is too industrial/mechanical to haunt anyone's dreams. The sound is, however, loud enough to startle any unsuspecting friends!
0 comments
Post a comment