Creepy eyes Halloween prop upgrade
Posted by
Grant
on 22 October 2018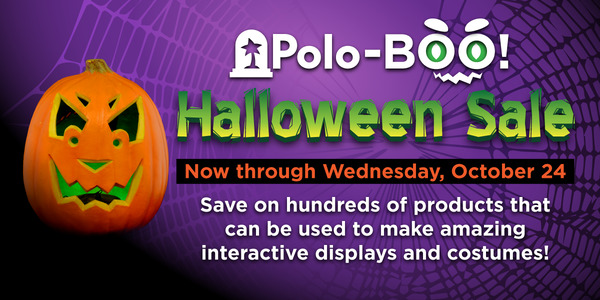 There are only a couple days left in our Halloween sale! Visit the sale page for more information, and if you are in need of some inspiration, check out our Halloween-tagged blog posts for some sample projects, including this upgrade to my creepy eyes prop:
I finally got around to upgrading my creepy eyes Halloween prop. As shown above, I mounted the mask on a picture frame to make it more presentable. I also added some of our VL53L0X time-of-flight distance sensor carriers so that the eyes could follow people in front of the mask. I camouflaged the sensors behind the black layer of foam behind the mask. Below is an image showing how the sensors were hidden in the lower corners of the picture frame:
I also swapped the Maestro out for an A-Star 32U4 micro, so I could communicate with the sensors through I²C. Due to switching to the A-star micro, I added one of our small solderless breadboards to help distribute power and a servo Y splitter cable since both sub-micro servos can use the same signal. I also added a power switch and used some of our premium jumper wires to make connections. You can see all the electronics taped to the back of the picture frame in the picture below.
3 comments
Post a comment