Free shipping, phase two: lots more free shipping
Posted by
Jan
on 31 October 2017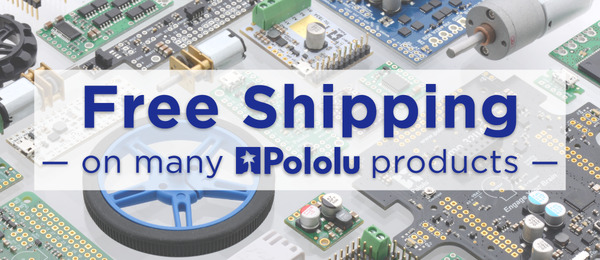 We are now offering free US shipping for $60 or more of Pololu-branded products with active statuses.
Since my post on Thursday afternoon, we have brought free shipping to dozens of products and free add-on shipping to hundreds more. Unfortunately, that still does not get you really free shipping for most of our thousands of products because many of them are individually too low-cost to make part-by-part free shipping feasible. We just do not have a way to ship you a $6 regulator or an $8 pair of wheels for free without having to inflate the price of the products. But today, we released phase two of our free shipping initiative, which allows us to offer free shipping in the US on orders of $60 or more of Pololu-branded products that have an active status. This should bring free shipping to most of our typical orders, which might include that set of wheels, a few motors, a motor driver, and maybe the $6 regulator.
You might be wondering what I meant by that somewhat awkward phrase, "Pololu-branded products that have an active status". That's actually related to yet another exciting new set of features we are bringing to the Pololu site. We are proud that we design and manufacture most of our products, and we want to make it easy to tell which items are made by us. For products from other brands, especially where we are authorized distributors or otherwise working with those brands, we want to make it clear that you are getting the product from that brand, and not some counterfeit or knock off. And sometimes we all just want something generic, like the ubiquitous 0.1" headers, where the manufacturer or brand does not really matter. In some of those cases, we might not want to reveal our suppliers, or we might want to have the flexibility to change suppliers without updating product specifications; explicitly calling out a product as generic should help make it clear what kind of a product you are getting.
Because many of our customers build their own products using our products as components, or design curricula around our products, I also want to better communicate the life cycle status of our products. We therefore added a "product status" field to our product listings so that you can quickly tell if a product is one that we expect to keep making for a long time or if we expect to be discontinuing it soon. I will go over the various product status designations in a separate blog post, but for the purposes of this free shipping announcement, the point is that the products we make and which are in our good graces will be considered toward the $60 free shipping minimum.
We will be updating the product brand and status fields for our products in the coming weeks; please let us know if a product you are interested in is not updated yet.
2 comments
Post a comment