New SK9822 LED strips and panels
Posted by
David
on 16 May 2017
We're excited to offer a series of addressable LED strips and addressable LED panels based on the new SK9822 integrated circuit. Like the APA102C, the SK9822 combines an RGB LED and driver into a single 5050-size package, allowing each pixel to be individually controlled using a simple two-wire SPI protocol.
The SK9822 is almost (see the notes below) a drop-in replacement for the APA102C and is better than it in a few ways, most importantly its built-in constant current control. If you've ever tried to power a long chain of LED strips and only connected power at one end, you might have noticed that the far end of the LED strip has a lower voltage across its power rails because of resistance in the long power connections. For LED strips based on the APA102C and WS2812B, the lower voltage makes the light dimmer and redder. With the SK9822, voltage drops like that are less likely to have a visible effect as long as the voltage stays above 3.5 V.
The SK9822's protocol is very similar to that of the APA102C, but it updates the color that is being shown at a different time. If you replace APA102C LEDs with SK9822 LEDs in a low frame-rate application, you might have to update the code you are using to control the LEDs. The latest version of our APA102 Arduino library works with the SK9822 so you can either use it directly or use it as a reference when writing your own code. The colors generated by the SK9822 look different from the colors generated by the APA102C, so we would not recommend mixing the APA102C and the SK9822 in a single project.
We offer six different kinds of SK9822 LED strip with different LED densities and lengths:
We offer SK9822 LED panels in three different sizes:
These new SK9822-based products will replace our older APA102C-based products.
We continue to offer SK6812-based LED strips which also have constant current control but are controlled with a one-wire protocol.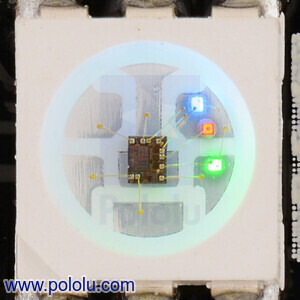 Close up of an SK9822, with the red, green, and blue LEDs on at a low brightness.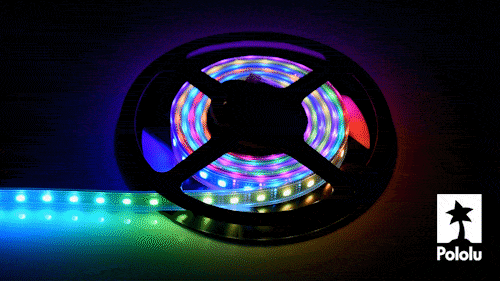 An addressable RGB LED strip (APA102C or SK9822) displaying a rainbow animation.
4 comments
Post a comment