New products: G2 High-Power Motor Driver 18v25 and 24v21 (and price drops for other G2 drivers)
Posted by
Kevin
on 3 March 2016
Our second-generation family of high-power motor drivers continues to grow with the release of our G2 High-Power Motor Driver 18v25 and G2 High-Power Motor Driver 24v21, discrete MOSFET H-bridges that can supply a brushed DC motor with up to 25 A of continuous current at up to 30 V or up to 21 A of current at up to 40 V, respectively. In addition, we've lowered the prices of the 18v17 and 24v13 versions to make them even more affordable.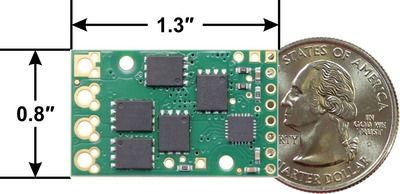 The new G2 18v25 and G2 24v21 drivers' double-sided design allows them to retain the same board dimensions as their 18v17 and 24v13 siblings, even though they can deliver significantly more power. The G2 drivers are half an inch shorter and can handle the same (or slightly more) current compared to the original 18v25 and 24v20 they are designed to replace, and they are less than half the size of the original 18v25 CS and 24v23 CS while offering basic current sensing functionality that can eliminate the need for a dedicated current sensor in some applications. As with previous G2 drivers, they also include reverse-voltage protection and a current limiting feature.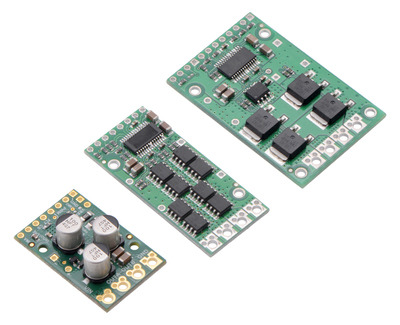 Pololu G2 High-Power Motor Driver 24v21 next to original high-power motor driver 24v20 and 24v23 CS.

Pololu G2 High-Power Motor Driver 24v21 and 24v13.
For more information about the G2 motor drivers, see their product pages at the links below.
23 comments
Post a comment