New products: 40×7 mm wheels
Posted by
Ben
on 22 April 2015
We now have 40mm-diameter wheels (available in black, red, and white) in the same thin style as our 32×7 mm wheels, which help fill the void between those and the 60×8 mm wheels that were previously our next size up.

Black Pololu Wheels with 90, 80, 70, 60, 40, and 32 mm diameters (other colors available).
Like the rest of the Pololu wheels, the 40×7 mm wheels press-fit onto the 3mm D shafts on many of our motors, including the micro metal gearmotors and mini plastic gearmotors.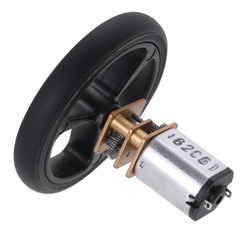 Pololu 40×7mm wheel on a Micro Metal Gearmotor.
For more information, take a look at one of the items listed below, or check out all the Pololu wheels category page for more options.
0 comments
Post a comment