New product: iMAX B6AC V2 Balance Charger and Discharger
Posted by
Claire
on 16 January 2015
We have carried the iMAX B6AC charger from SkyRC for many years and often use it to charge batteries for our own projects and robot contests, so we are happy to now be carrying the upgraded iMAX B6AC V2 Balance Charger and Discharger. Both versions of the iMAX B6AC are capable of charging or discharging NiMH, NiCd, Pb, LiPo, Li-ion, and LiFe batteries and can be powered either from AC mains power or a DC input. The new version of the charger has all the same advanced features as the original, like individual cell balancing for up to 6 lithium cells, delta-peak sensitivity, and cyclic charging and discharging. In addition, version two of the charger is more accurate, more stable, and has many new features. Some of the new features include a Micro-USB connection for interfacing with SkyRC's ChargeMaster PC software and upgrading the firmware, user control over the final battery voltage when charging, individual lithium cell voltage display, and an internal resistance meter.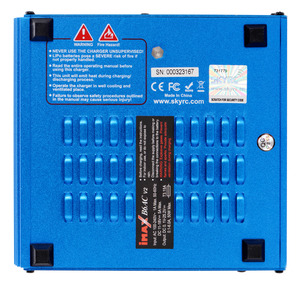 Bottom view of the iMAX B6AC V2 showing the holographic label with scratch-and-reveal security code.
There are many counterfeit chargers that look almost identical to SkyRC products, so as with the first version, we buy these directly from SkyRC and take care to ensure that our units are genuine. If you would like to double check the authenticity of the iMAX B6AC V2 that you receive, you can reveal the security code under the scratch-and-reveal portion of the holographic label on the bottom of the charger and enter it on the SkyRC web site.
Need batteries for your charger? While we do carry some basic NiMH cells and packs, we recommend that you check out the options at local stores and online, since government restrictions, shipping, and storage issues make this a tough area for a small business to compete in. For larger packs and lithium batteries in particular, there are a number of hobby supply stores shipping from Hong Kong or China that provide excellent options.
For more information about the iMAX B6AC V2 and its features, please see its product page.
0 comments
Post a comment