Jrk G2 21v3 USB Motor Controller with Feedback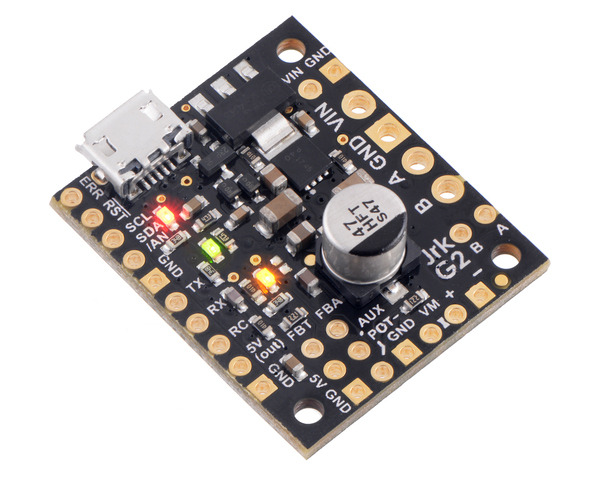 This compact motor controller makes closed-loop speed or position (but not both!) control of a brushed DC motor easy, with quick configuration over USB using our free software. It supports five control interfaces: USB, TTL serial, I²C, analog voltage (potentiometer), and hobby radio control (RC). This version offers a 4.5 V to 28 V operating range and can deliver continuous output currents up to 2.6 A (5 A peak) without a heat sink. Male headers and terminal blocks are included but not soldered, allowing for custom installations.
Alternatives available with variations in these parameter(s): version Select variant…

Compare all products in Pololu Jrk Motor Controllers with Feedback or

Pololu Jrk G2 Motor Controllers with Feedback.
Does the Jrk support using a quadrature encoder for feedback?

The Jrk motor controllers do not work with encoders, in the sense that you cannot get position control over unlimited number of rotations. (The Jrks are typically used with potentiometer feedback, which allows for up to a few rotations when using multi-turn potentiometers.)