DRV8825 Stepper Motor Driver Carrier, High Current (Bulk, No Header Pins)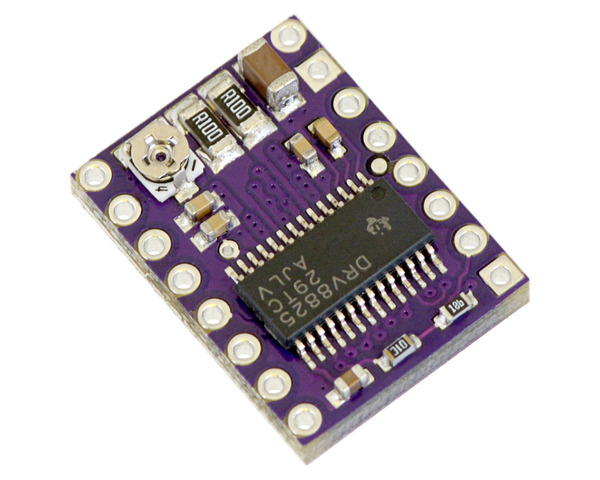 This is a bulk-packaged version of our DRV8825 Stepper Motor Driver Carrier that ships without header pins. Please see that product's page for more information about the driver. This version requires a minimum order quantity of five units and is intended for customers interested in higher volumes at lower unit costs. We will manufacture these to order and generally expect orders of up to a few hundred units to ship within a few days.
Compare all products in DRV8825 Stepper Motor Driver Carriers, High Current or
16-pin Stepper Motor Drivers.
Dimensions
| | |
| --- | --- |
| Size: | 0.6″ × 0.8″ |
| Weight: | 1.6 g |
General specifications
| | |
| --- | --- |
| Minimum operating voltage: | 8.2 V |
| Maximum operating voltage: | 45 V |
| Continuous current per phase: | 1.5 A1 |
| Maximum current per phase: | 2.2 A2 |
| Minimum logic voltage: | 2.5 V3 |
| Maximum logic voltage: | 5.25 V3 |
| Microstep resolutions: | full, 1/2, 1/4, 1/8, 1/16, and 1/32 |
| Reverse voltage protection?: | N |
| Bulk packaged?: | Y |
| Header pins soldered?: | N4 |
Notes: