Pololu Qik 2s15v9 Dual Serial Motor Controller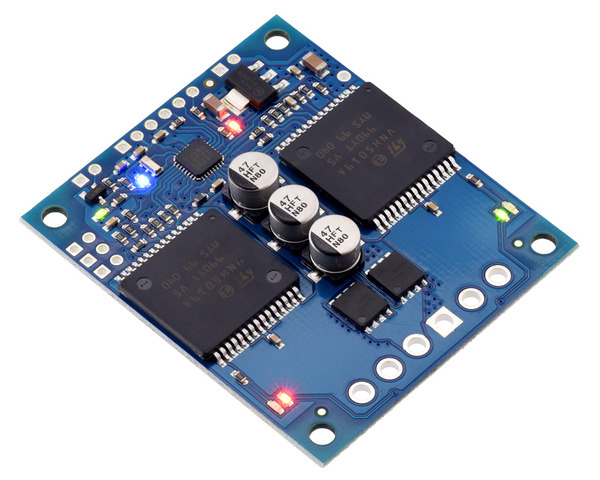 This powerful motor controller allows variable speed and direction control of two large, brushed DC motors using a simple serial interface and provides several advanced features, such as motor acceleration control and configurable current limiting. Automatic baud detection up to 115.2 kbps and inputs for both RS-232 and TTL serial make it easy to add motors to your microcontroller- or computer-based project. The operating voltage range is 6 to 24 V; the continuous current per channel is up to 12 A (30 A peak).

Compare all products in Pololu Qik Dual Serial Motor Controllers.
Dimensions
| | |
| --- | --- |
| Size: | 1.86" x 2.15" x 0.30"1 |
| Weight: | 15 g1 |
General specifications
| | |
| --- | --- |
| Motor driver: | VNH5019 x2 |
| Motor channels: | 2 |
| Control interface: | non-inverted TTL serial (2-way); RS-232 serial (1-way)2 |
| Minimum operating voltage: | 6 V |
| Maximum operating voltage: | 24 V3 |
| Continuous output current per channel: | 12 A |
| Peak output current per channel: | 30 A |
| Current sense: | 0.14 V/A |
| Maximum PWM frequency: | 19.7 kHz4 |
| Minimum logic voltage: | 2.7 V |
| Maximum logic voltage: | 5.5 V |
| Reverse voltage protection?: | Y |
Notes: