Solarbotics GM3 224:1 Gear Motor 90 deg. Output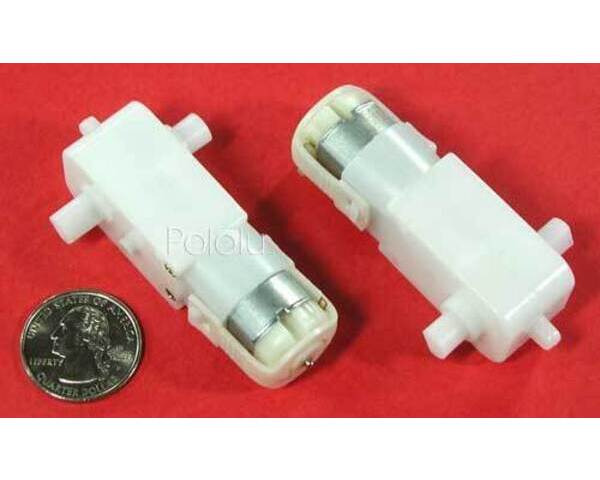 This 224:1 gearmotor (gearbox with brushed DC motor) has a low-current motor and provides power and speed that is comparable to an RC servo at a fraction of the cost.

Compare all products in Solarbotics Gearboxes.
This 224:1 gearmotor (gearbox with brushed DC motor) is a great low-cost alternative to modified hobby servos or Tamiya gearboxes. The low-current motor is a perfect match for our qik 2s9v1 dual serial motor controller, and the compact size makes this unit an attractive choice for small robot designs.
This gearmotor comes pre-assembled, with the gears fully enclosed. There are built-in mounting holes, and the output shaft is 7mm in diameter with two sides flattened (the "D" output is not meant to be used). A built-in safety clutch engages at approximately 60 oz-in.
Compatible products include a custom-molded GMPW plastic wheel, and the Solarbotics GMW motor mount, which can be used as a wheel itself or as a mounting point for other wheels or mechanisms. Solarbotics makes a mounting bracket that works with this motor, and our L-brackets and extended L-brackets for plastic gearmotors are also compatible with this motor (though you might need longer screws than the ones included with the Pololu brackets).
For similar gearmotors, you might want to take a look at:
To increase the power of this gearbox, you can replace the motor with a higher-power RM2 motor. For a replacement motor, see the RM3 motor.
Specifications
Description: 90-degree
Gear ratio: 224:1
3 V Operation:

No-load RPM: ~ 24
No-load current: ~ 40 mA
Stall current: ~ 400 mA
Stall torque: ~ 49 oz-in

6 V Operation:

No-load RPM: ~ 46
No-load current: ~ 50 mA
Stall current: ~ 733 mA
Stall torque: ~ 57 oz-in

Weight: 31 g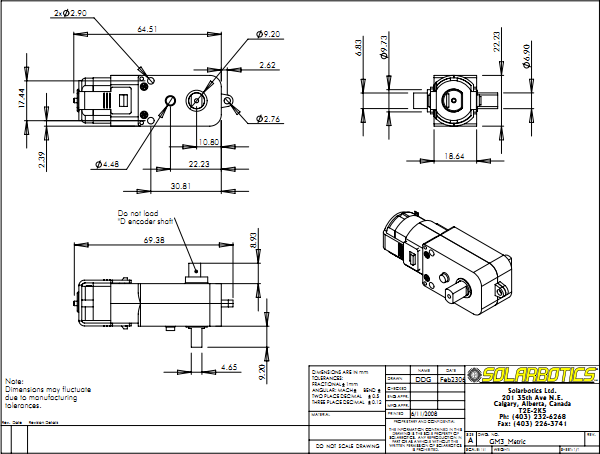 Solarbotics GM3 gearmotor dimensions (in mm).
You can download a pdf version of this drawing with imperial dimensions (126k pdf) or metric dimensions (126k pdf).
Though the product picture shows two gearmotors, this product is for a single motor.
People often buy this product together with: