Wall Power Adapter: 12VDC, 3A, 5.5×2.1mm Barrel Jack, Center-Positive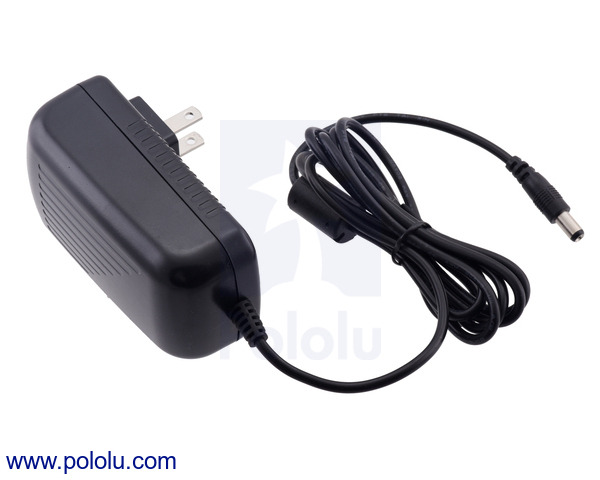 This UL-listed 36 W, "wall wart"-style switching power adapter supplies up to 3 A at a regulated 12 VDC. The AC adapter works with input voltages of 100 – 240 VAC and has a 1.5 m (5 ft) DC power cord that is terminated by a center-positive, 5.5 × 2.1 mm barrel connector.
Alternatives available with variations in these parameter(s): voltage maximum output current Select variant…

Compare all products in Wall Power Adapters.
Details for item #1774
This UL-certified AC-to-DC converter gives you an easy way to power your DC electronics project from a US-style AC electrical socket. It uses a switching regulator to efficiently output up to 3 A at a near-constant regulated 12 VDC, even when no load is applied. The DC power cable is 5 ft (1.5 m) long and terminated with a center-positive, 5.5 × 2.1 mm barrel connector that works with the DC power adapter barrel jack and the DC barrel jack to terminal block adapter. It also works with the barrel jack on many Arduino boards and our Arduino-compatible A-Star 32U4 Prime controllers.
Full selection of power adapters
We have wall power adapters available in a range of voltages and maximum output currents:
Product
Connector
Output voltage
Typical max output current
Wattage
Power brick?
Price
#1469
center-positive
5.5×2.1
barrel jack
5 V
1 A
5 W

$6.95

#1461
3 A
15 W

$11.95

#1462
5 A
25 W

$29.95

#1470
9 V
1 A
9 W

$7.49

#1465
5 A
45 W

$24.95

#1471
12 V
1 A
12 W

$7.95

#1774
3 A
36 W

$14.95

#1468
5 A
60 W

$27.95

#1773
USB micro-B
5.15 V
2.5 A
12.9 W

$9.95
People often buy this product together with: