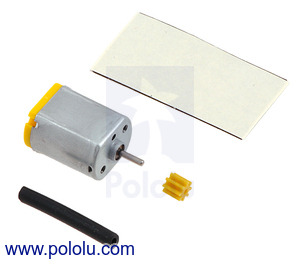 Tamiya 75026 Mini Motor Set with included parts.
This 030-size motor can replace the brushed DC motor included with the Tamiya Mini Motor 4-speed, 8-speed, and 12-speed gearboxes and has 20% more power than the motor included with those gearboxes.
The Tamiya 75026 Mini Motor set includes:
One motor
One 8 toothed 0.5M pinion gear
Vinyl tubing
Double sided tape
This motor is intended for operation around 3 V.
People often buy this product together with: