Parallax Scribbler Robot #28136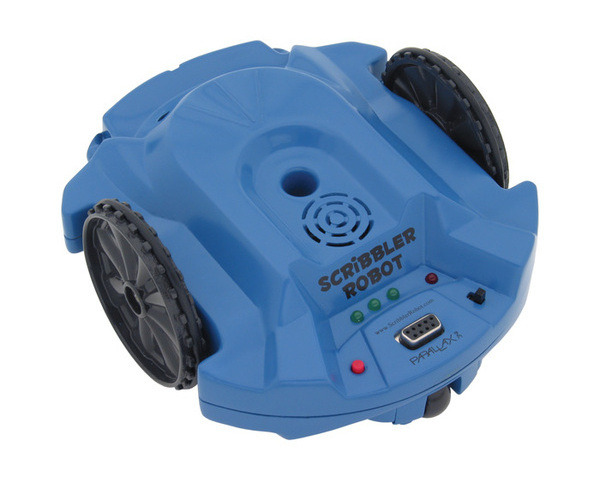 The Scribbler Robot comes fully assembled and pre-programmed with eight demo modes including line-following and light-seeking. Place a marker in its pen port so it draws as it drives. Software for programming the Scribbler comes with the included CD.
Note: This product has been replaced by the second generation Scribbler 2 Robot.
The Scribbler Robot arrives pre-programmed with eight demo modes, including light-seeking, object detection, object avoidance, and line-following. Place a marker in the pen port and the Scribbler will draw as it drives.
Make your own programs for the Scribbler in two formats: build programs from picture tiles with the Scribbler Program Maker GUI software, or write text-base programs with the BASIC Stamp Editor software (see Programming Options). Both software packages and programming guides along with many other resources are included on the Scribbler CD. The latest software and documentation updates are also available at the Scribbler downloads page.
Kit Contents
Requirements * Six AA alkaline or NiMH batteries are required but not included. * Programming the Scribbler Robot requires a PC running Windows 2000/XP/Vista. * The Scribbler connects to your PC via a serial port. * If you do not have a serial port, you can use a Parallax USB to Serial Adapter and a USB A to mini-B cable (not included) to connect the Scribbler to a USB port.
Features
Built-in BASIC Stamp 2 microcontroller brain (inside).
Three photoresistor light sensors to detect bright light, or its absence.
Two infrared emitter "headlights" and an infrared detector for object detection.
Two infrared line sensors to follow lines or read bar codes.
Two independent DC motors to drive the wheels.
Built-in stall sensor to protect the motors (inside).
Three indicator LED lights that can be separately program-controlled.
Speaker to play a wide range of sounds and musical notes.
Pen port to insert a marker so the Scribbler can draw as it drives.
Programming port that accepts a serial cable for a computer interface.
Battery cover — requires 6 standard, alkaline, or NiMH batteries. There is also a low-battery indicator light.
Key Specifications
Power requirements: 6 AA alkaline or NiMH batteries, not included.
Communication: Serial programming interface to PC
Scribbler dimensions: 7.4 × 6.25 × 3.2 in (188 × 158.8 × 81 mm)
Operating temperature range: +50 to +158 °F(+10 to +70 °C)
Programming Options
Graphic-based program for the Scribbler Robot.

Program with Graphics

Build programs in pictures instead of words with the Scribbler Program Maker GUI (Graphical User Interface). Point and click to select different tiles, place them in your program, and set their actions. Control the Scribbler Robot's motors, lights, and sensors, and even play music on its speaker. Once you load your program into the Scribbler with a single click, you can unplug the programming cable and let it loose! The Scribbler does not need to stay connected to your computer to carry out your mission. Fun for new roboticists, but powerful enough to keep even experienced programmers engaged.

Text-based program for the Scribbler Robot.

Program with Text

Write your own programs for your Scribbler Robot with the BASIC Stamp Editor. The straightforward PBASIC programming language gives you direct access to your robot's sensors, actuators, and drive motors. Load your custom program into the on-board BASIC Stamp microcontroller, disconnect the cable (the Scribbler does not need to maintain the computer connection), and your robot is ready to run. You can easily re-load the original factory Demo Program which is included on the Parallax Software CD.