180:1 Mini Plastic Gearmotor, Offset 3mm D-Shaft Output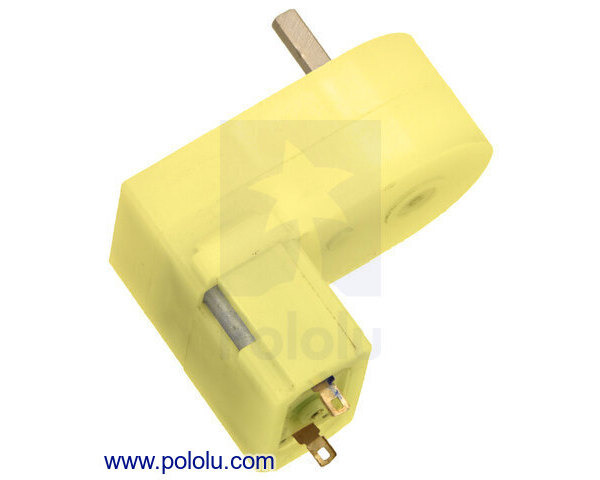 This compact, inexpensive plastic gearmotor (brushed DC motor with a 180:1 reduction gearbox) is well suited for use in small robots. While intended for operation at 4.5 V, it should run comfortably in the 3 V to 6 V range. The gearbox has a 9.7mm-long, 3 mm-diameter D-shaped output shaft that is offset from but parallel to the motor shaft, and a built-in safety clutch helps protect the gears from excessive loads.
| voltage | no-load performance | stall extrapolation |
| --- | --- | --- |
| 4.5 V | 80 RPM, 80 mA | 2.2 kg⋅cm (30 oz⋅in), 800 mA |
Alternatives available with variations in these parameter(s): shaft type no-load speed @ 4.5V extended motor shaft? Select variant…

Compare all products in Mini Plastic Gearmotors.
File downloads
Recommended links
This MATLAB script, written by Ali Asgher Mansoor Habiby, plots speed, power, current draw, and efficiency as they vary with torque when you input the gearmotor specifications. It also prints the resistance of the motor, and the current draw and torque at which maximum efficiency and maximum power occur.