Pololu Mini Plastic Gearmotor Bracket Pair - Wide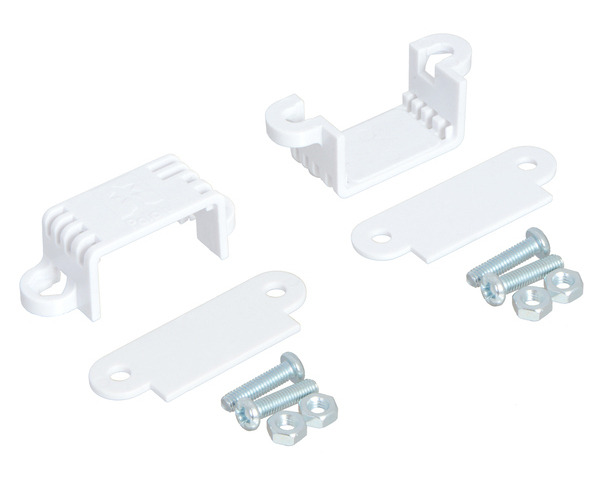 These wide brackets offer an easy and convenient mounting solution for our mini plastic gearmotors. The white plastic bracket clasps securely around the gearmotor, and the mounting tabs capture the nuts for easy installation. These brackets are sold in pairs, and each bracket comes with two M3 screws, two nuts, and a spacer.

Compare all products in Motor Brackets.
Overview
These plastic mounting brackets are specifically designed to work with our mini plastic gearmotors (with or without encoders). Both the offset and 90-degree configurations of the mini plastic gearmotors are compatible with these brackets. The brackets are sold in pairs, and four M3×12mm screws and M3 nuts are included (two for each bracket). In some orientations, the mini plastic gearmotors have a lip that causes the bracket to be raised off of the mounting surface; for those cases, two 1.25mm-thick spacer plates (one for each bracket) are also included. You can see the spacer being used in the rightmost picture below.
We also offer a tall version of this bracket that allows for alternate mounting options that might be more appropriate for particular applications.
Dimensions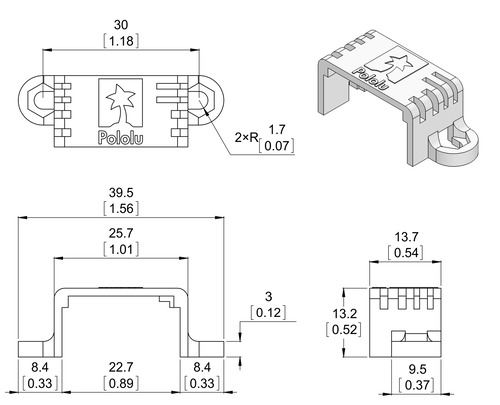 Dimension diagram of Mini Plastic Gearmotor Bracket – Wide. Units are mm over [inches].
This diagram is also available as a downloadable PDF (97k pdf).
People often buy this product together with: