120:1 Mini Plastic Gearmotor HP, Offset 3mm D-Shaft Output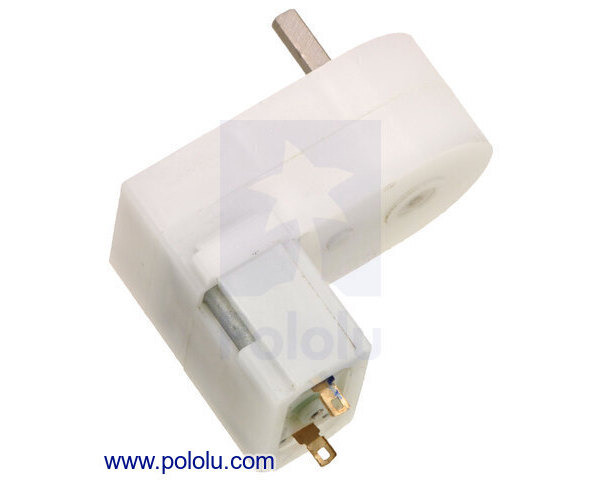 This compact, inexpensive plastic gearmotor (high-power brushed DC motor with a 120:1 reduction gearbox) is well suited for use in small robots. While intended for operation at 4.5 V, it should run comfortably in the 3 V to 6 V range. The gearbox has a 9.7mm-long, 3 mm-diameter D-shaped output shaft that is offset from but parallel to the motor shaft, and a built-in safety clutch helps protect the gears from excessive loads.
| voltage | no-load performance | stall extrapolation |
| --- | --- | --- |
| 4.5 V | 150 RPM, 130 mA | 1.8 kg⋅cm (25 oz⋅in), 1.25 A |
Alternatives available with variations in these parameter(s): shaft type no-load speed @ 4.5V extended motor shaft? Select variant…

Compare all products in Mini Plastic Gearmotors.
- 16 February 2016

In this post I will show you how to build an expandable robot platform based on a Raspberry Pi and an A-Star 32U4 Robot Controller. With this...

- 16 October 2014

Our family of Mini Plastic Gearmotors is growing! We have added HP versions with more powerful motors for increased torque and speed, and we are...