Sharp GP2Y0D810Z0F Digital Distance Sensor 10cm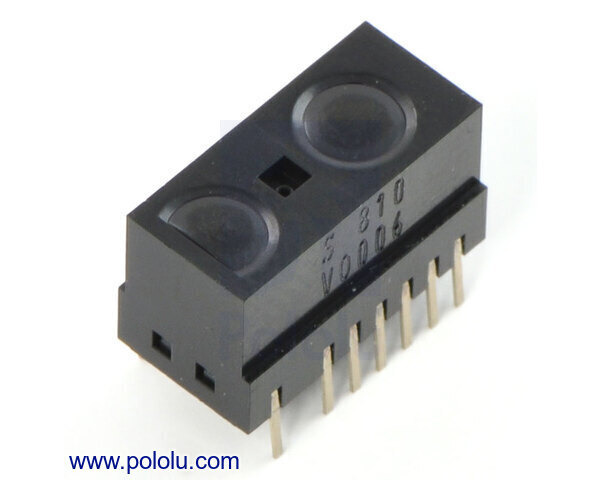 This small digital distance sensor detects objects between 2 cm and 10 cm (0.8″ and 4″) away. With its quick response time, small size, and low current draw, this sensor is a good choice for non-contact object detection.
Alternatives available with variations in these parameter(s): maximum range Select variant…

Compare all products in Sharp Distance Sensors.
Overview
These small and responsive sensors from Sharp are great way to quickly detect the presence of nearby objects. The available versions offer three different sensing ranges:
There are a few millimeters of hysteresis around the maximum range threshold and no hysteresis at the minimum range threshold. Note that these sensors will only tell you if there is an object within the detection range along their lines of sight; they will not tell you how far away the object is.
With a detection distances up to 150 mm and a typical sampling rate of almost 400 Hz, these sensors provides attractive alternatives to shorter-range LED-phototransistor reflectance pairs and longer-range but slower sensors such as the Sharp GP2Y0A41SK0F analog distance sensor. The output, Vo, is driven low when the sensor detects an object; otherwise, the output is high.
Please note that this sensor requires external components and has a non-standard 1.5 mm pitch, which can make it difficult to integrate into projects based on a 0.1″ pitch. We offer a carrier board for this sensor that makes it much easier to use by including these required components and providing a 0.1″-pitch, three-pin interface: ground, power, and digital output. The carrier board is available with these sensors pre-installed:
Alternatively, you can order the carrier board without any sensor and solder one in yourself. The pictures below show our bare carrier board (left) and the carrier board with the Sharp digital distance sensor installed (right).
| | |
| --- | --- |
| Pololu carrier for Sharp GP2Y0D815Z0F, GP2Y0D810Z0F, and GP2Y0D805Z0F sensors. | Pololu carrier with Sharp GP2Y0D805Z0F, GP2Y0D810Z0F, or GP2Y0D815Z0F digital distance sensor. |
Some example applications include:
break-beam sensor or photogate alternative
non-contact bumper or obstacle detector
a counter or timer of objects as they pass by
Feature summary
Operating voltage: 2.7 V to 6.2 V
Average current consumption: 5 mA (typical)
Distance measuring range

GP2Y0D805Z0F: 0.5 cm to 5 cm (0.2″ to 2″)
GP2Y0D810Z0F: 2 cm to 10 cm (0.8″ to 4″)
GP2Y0D815Z0F: 0.5 cm to 5 cm (0.2″ to 6″)

Output type: digital signal (low when detecting an object, high otherwise)
Steady state update period: 2.56 ms typical (3.77 ms max)
Package size: 13.6 mm × 7 mm × 7.96 mm (0.53″ × 0.27″ × 0.31″)
Weight: 0.8 g (0.03 oz)
Comparison to Pololu Digital Distance Sensors
These sensors are no longer being produced by Sharp/Socle, so we do not recommend them for new designs where continued availability is important. As an alternative, consider the newer Pololu Digital Distance Sensors, which have the same form factor and pinout as our carrier board for these sensors.
The Pololu distance sensors are available in the same 5 cm, 10 cm, and 15 cm ranges as the Sharp sensors, in addition to longer ranges of up to several meters. This means they can be used as replacements for these older modules, and the longer-range versions can serve as upgrades that provide enhanced detection and measurement capabilities. Also available are versions with pulse-width outputs that can provide quantitative distance measurements instead of simply indicating the presence of an object.
The sensors on these newer units are much thinner than the Sharp modules, so the zero-range point is approximately 7 mm closer to the PCB, and the beam angle of the newer units is wider. The pictures below show side-by-side comparisons of the two:
Alternative Sharp distance sensors
We carry several analog Sharp distance sensors as well: the Sharp GP2Y0A51SK0F 2 – 15 cm, the Sharp GP2Y0A41SK0F 4 – 30 cm, the Sharp GP2Y0A21YK0F 10 – 80 cm, and the Sharp GP2Y0A02YK0F 20 – 150 cm. These analog distance sensors have longer minimum detection distances and much slower response times than the GP2Y0D805, GP2Y0D810, and GP2Y0D815, but they can see farther and report the distance to the detected object rather than simply if an object is detected.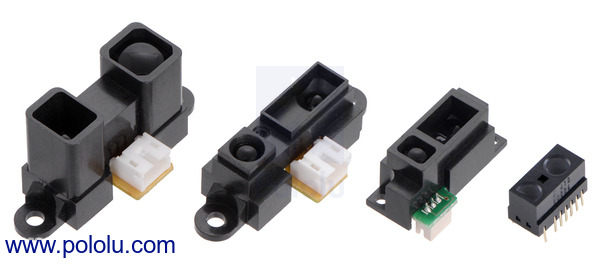 A variety of Sharp distance sensors. From left to right: GP2Y0A02, GP2Y0A21 or GP2Y0A41, GP2Y0A51, and GP2Y0D8xx.
We also carry the newer Sharp GP2Y0A60SZ analog distance sensor (10 – 150 cm), which outperforms the other analog Sharp distance sensors in almost all respects, offering a low minimum detection distance, high maximum detection distance, wide 3 V output voltage differential, high 60 Hz sampling rate, operation down to 2.7 V, and optional enable control, all in a smaller package.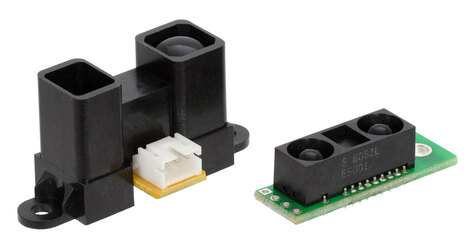 Sharp GP2Y0A02YK0F Sensor 20-150cm (left) next to Pololu Carrier with Sharp GP2Y0A60SZLF Sensor 10-150cm (right).
Note: This sensor requires external components, which are not included. Please see the datasheet or our carrier board for Sharp GP2Y0D815Z0F, GP2Y0D810Z0F, and GP2Y0D805Z0F sensors or for details.
People often buy this product together with: