New product: LOCOSYS LC20031-V2 135-Channel Dual-Band GNSS Receiver Module
Posted by
Kevin
on 24 March 2023
We're now selling the LC20031-V2 GNSS receiver module from LOCOSYS. This module integrates a global navigation satellite system (GNSS) receiver with an on-board antenna, making it a complete solution for providing satellite-based position data (a "smart antenna").
The LC20031-V2 outputs data at up to 10 Hz as NMEA sentences on a TTL-level serial port, or UART, and the module ships with a cable assembly that you can use to connect it to your project (either with a matching receptacle or by cutting off the connector to access the individual wire leads). A built-in rechargeable battery preserves system data while the module is inactive for rapid satellite acquisition on the next start-up.
Unlike GPS-only receivers such as the LS20031, the LC20031-V2 works with many different satellite systems. GPS, GLONASS, BeiDou, Galileo, and QZSS satellite signals are all supported, and the module can receive both L1 and L5 frequency band signals on up to 135 channels. This lets it achieve a typical position accuracy of 1.5 m CEP (circular error probable).
The GNSS Firebird software provided by LOCOSYS can be used to configure the LC20031-V2 and view its output. In this screenshot, you can easily see the different satellite systems that the receiver is tracking, represented by the different colors in the displays (GPS is blue, GLONASS is orange, Galileo is green, and BeiDou is red).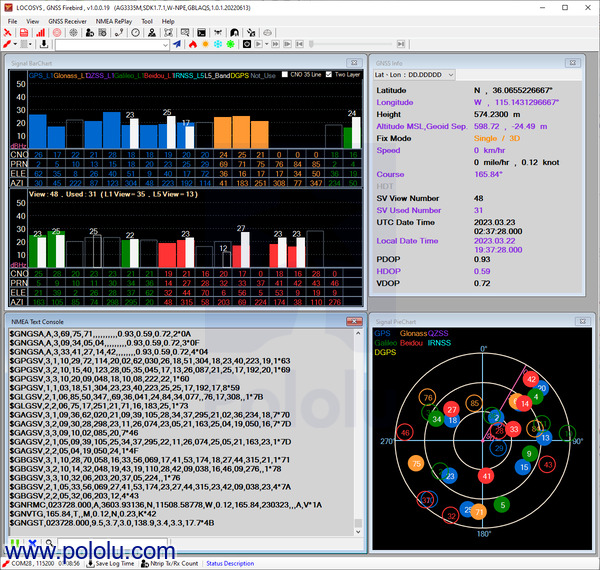 GNSS Firebird application showing data from an LC20031-V2 module inside Pololu's offices.
0 comments
Post a comment