LOCOSYS LC20031-V2 135-Channel Dual-Band GNSS Receiver Module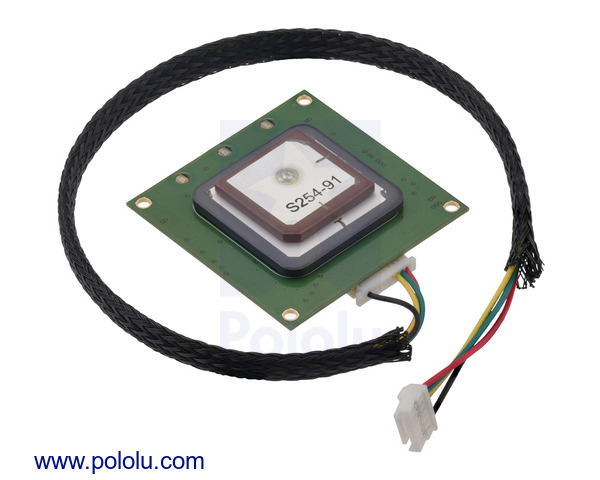 The LOCOSYS LC20031-V2 integrates a global navigation satellite system (GNSS) receiver with an embedded antenna to create a complete GNSS module that can track up to 135 signals at a time from GPS and many other satellite systems, with support for both L1 and L5 bands. It can provide updates at up to 10 Hz, has a built-in rechargeable battery for rapid satellite acquisition (external power is still required for normal operation), and outputs data as NMEA sentences through a 3.3 V or 5 V TTL-level serial port.
Overview
The LC20031-V2 smart antenna module from LOCOSYS receives global navigation satellite system (GNSS) signals on up to 135 channels. It supports the GPS, GLONASS, BeiDou, Galileo, and QZSS satellite systems and can receive signals in both the L1 and L5 frequency bands. The module outputs data in the NMEA 0183 sentence format defined by the National Marine Electronics Association; these NMEA sentences are transmitted on a TTL-level serial port (UART) at an update rate of up to 10 Hz. Since the GNSS module has an integrated patch antenna, you don't need to buy an external antenna or worry about the many different antenna connectors. The module can typically acquire a fix from a cold start in 28 seconds, and, by saving information about the satellites it was last connected to, the LC20031-V2 can acquire a hot-start fix in as little as 2 seconds.
Connections for power and TTL serial communication can be made to the module through a polarized male connector on one side, which mates with an included cable assembly. The other end of the cable is terminated with a 6-pin JST GH-style connector; you can plug it into a matching receptacle, or you can cut off the connector to solder the four wire leads directly to your project.
Features
Supports GPS, GLONASS, BeiDou, Galileo, and QZSS
Receives L1 and L5 band signals on 135 channels
1.5 m (CEP) typical position accuracy
Up to 10 Hz update rate
3.3 V to 5.25 V operating range
Built-in rechargeable battery to preserve system data for rapid satellite acquisition
LED indicators:

Red: power
Green: serial transmit (TX)
Blue: GNSS fix/pulse-per-second (PPS) signal

Capable of SBAS (WAAS, EGNOS, MSAS, GAGAN) and QZSS SLAS
Self-generated ephemeris prediction
28 second typical cold start, 2 second typical hot start
Configuration
The LC20031-V2 GNSS receiver module's firmware is initially set to a 1 Hz update rate, a 115200 bps serial communication rate, and is set to output GGA, GLL, GSA, GSV, RMC, VTG, and GST NMEA sentences (see the LC2003x-Vx datasheet (2MB pdf) for more information). After connecting the LC20031-V2 to a computer using a serial port or USB-to-serial adapter, you can use the GNSS Firebird (28MB zip) Windows application to change these default settings. (You can also download the latest version of the GNSS Firebird software directly from the LOCOSYS website.)