Laser cutting part of a 50:1 model of the James Webb Space Telescope
Posted by
Arthur
on 28 March 2023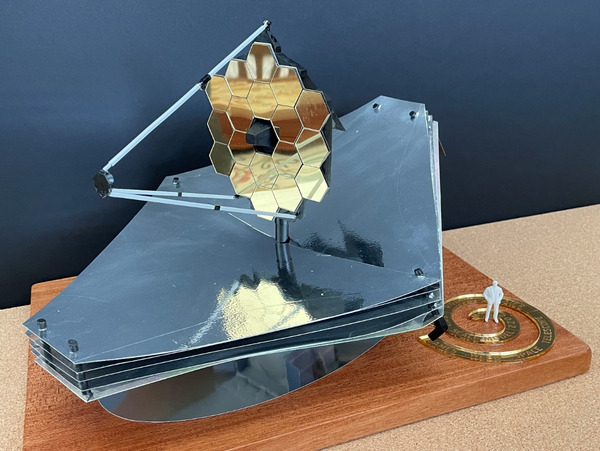 50:1 scale model of the James Web Space Telescope model with laser-cut and etched gold-mirror acrylic and gold-mirror styrene parts.
Retired aerospace engineer Robert Maier shared with us this awesome 50:1 scale model of the James Webb Space Telescope (JWST) he made with his brother Mark and a little help from our custom laser cutting service. We cut the JWST's main mirrors for him out of 1.5 mm gold mirrored styrene sheets from Midwest Products, and the hexagon patterns were laser etched onto the surface. He also had us laser cut various silicone bands to hold the moving pieces of the structure as the model folds/unfolds.
| | |
| --- | --- |
| JWST model, partially unfolded, with plastic figure to show 50:1 scale. | JWST model with thermal insulation Mylar, partially unfolded. |
We more commonly work with 3 mm mirrored acrylic, but the model's mirror required something thinner, and the more expensive styrene was perfect for the job. For comparison, the spiral label sitting beneath the figurine's feet was cut from gold mirror acrylic.
| | |
| --- | --- |
| Spiral label for a JWST model, laser cut end engraved on 3 mm gold mirror acrylic. | Gold mirrored acrylic. |
Mark uses the model in the Astronomy 101 classes he teaches at San Jacinto College in Southern California. He recently wrote an article about the model, which is published in the April 2023 issue of Sky and Telescope magazine (it's on page six). Additional photos of the model are included below, and even if you're not a subscriber to the magazine, you can preview the article online.
| | | |
| --- | --- | --- |
| JWST model, folded as it would be inside the Ariane 5 payload bay. | 50:1 scale models of the James Web and Hale Telescopes | A close up of the unfolded JWST model's primary mirrors, laser-cut from gold mirrored styrene. |
Do you have a fun idea in mind that can benefit from laser-cut parts? Submit a quote request or contact us to discuss how we can help.
0 comments
Post a comment