37D gearmotors: helical pinion gear, new 150:1 gear ratio, and performance graphs
Posted by
Emily
on 3 September 2019
We have some big announcements related to our 37D Metal Gearmotors to share! First, we now have new versions of our 37D gearmotors that feature helical pinion gears and first mating gears as seen in the photo on the left above. The helical gears help reduce vibrations, making the gearbox a little quieter and more efficient than the original versions that used all spur gears. The performance is otherwise unchanged, and the dimensions are the same, so the new versions with helical pinion gears can be used as direct replacements for the original units. We are using new product numbers for the new versions so you can know exactly which one you are getting, and the product numbers for the original spur versions are being phased out. The following table shows all of the new helical-pinion versions:
We have also expanded the 37D gearmotor line by adding a new 150:1 gear ratio, which becomes our new highest gear ratio offering for this line of gearmotors. This version has an extrapolated (i.e. theoretical) stall torque of 49 kg⋅cm (680 oz⋅in), but please keep in mind that the point of high gear ratios like this is not to allow for more total torque. Rather, they enable slower speeds and draw less current than lower gear ratios for the same loads. For all of our 37D gearmotors, we recommend keeping continuously applied loads under 10 kg⋅cm (150 oz⋅in) and instantaneous torques under 25 kg⋅cm (350 oz⋅in).
Finally, we now have published performance graphs (1MB pdf) for our 37D gearmotors, just like the ones we previously released for our Micro Metal Gearmotors and our 20D Gearmotors! Each chart is based on hundreds of individual measurements that reveal how the speed, current, power, and efficiency of that particular gearmotor version depend on the applied load (i.e. torque).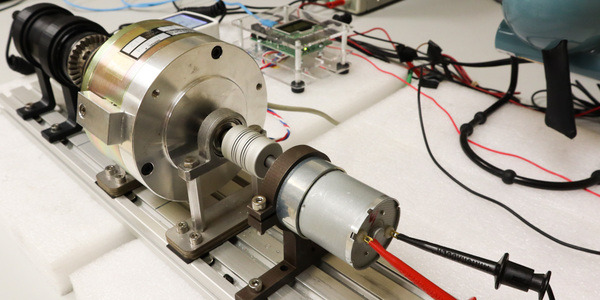 37D mm metal gearmotor undergoing dynamic performance testing.
These characterizations are yet another way we set our gearmotors apart from the many similar-looking alternatives out there. When you get your gearmotors from us, you know exactly what kind of performance to expect, and because we make and test them ourselves, you can count on getting that same performance batch after batch after batch.
If you have any questions or feedback about these graphs or if there is additional information you would like to see available for our motors, please feel free to contact us (or just leave a comment below). And if you are wondering about graphs for 25D Gearmotors, don't worry, those are coming! (If you need something before those datasheets are done, just let us know and we might be able to get you preliminary data for a particular gearmotor.)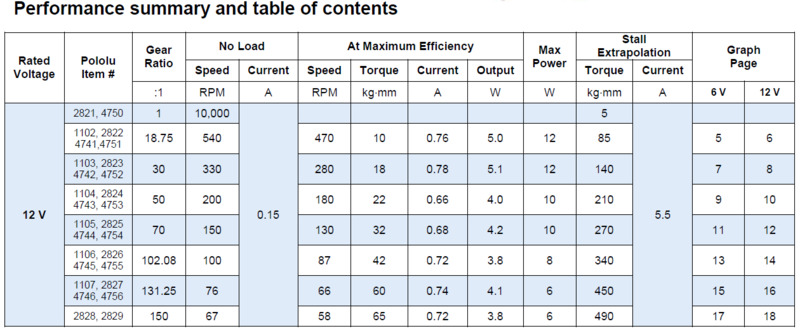 Performance summary table from 37D mm Metal Geamotor datasheet.
8 comments
Post a comment