Updated product: A-Star 32U4 Prime LV
Posted by
Tony
on 28 March 2019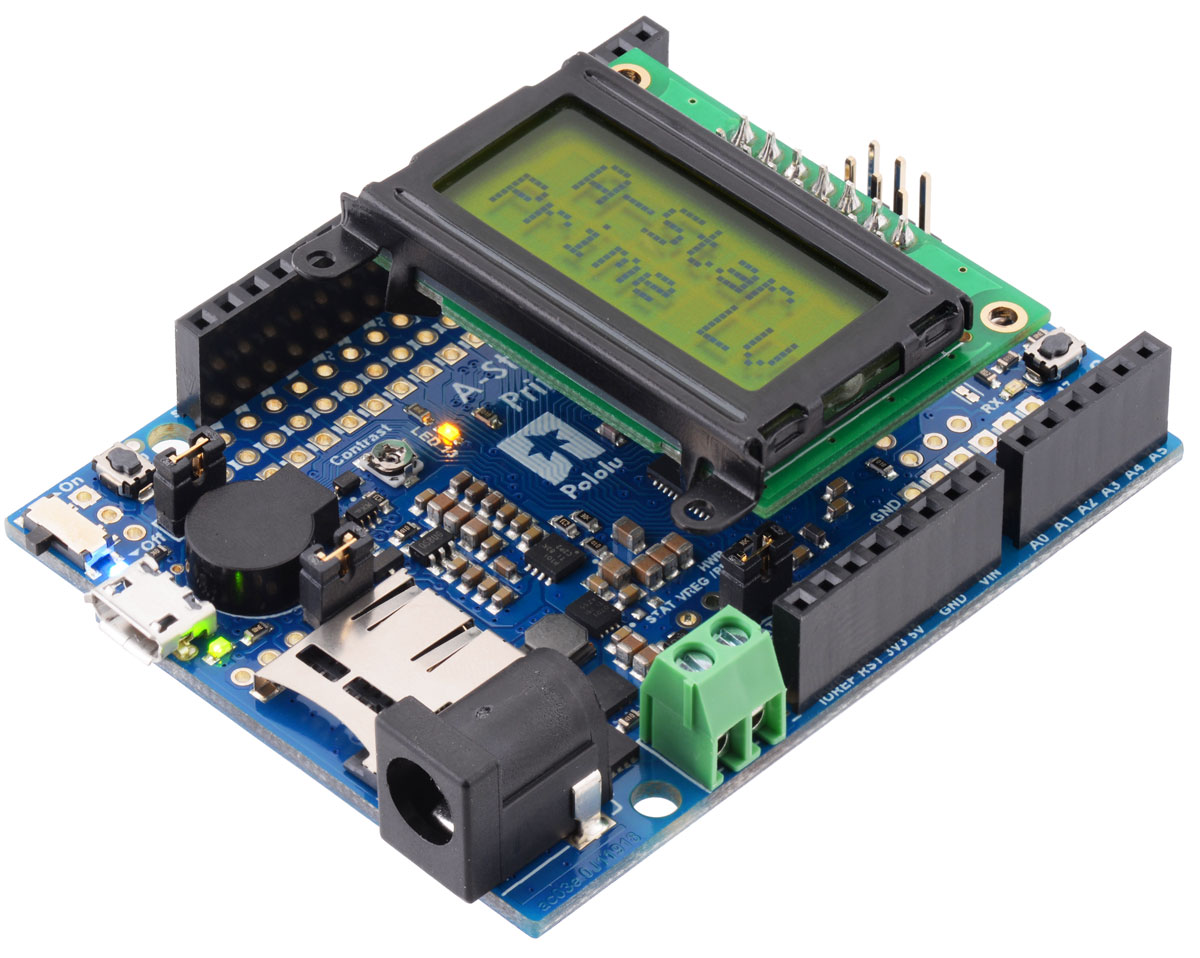 We have updated our A-Star 32U4 Prime LV with a new regulator that offers a wider operating voltage range and increased current capabilities. For those of you not already familiar with our A-Star 32U4 Primes, they are a series of ATmega32U4-based, USB-programmable controllers with integrated regulators that offer operating voltage ranges not available on typical Arduino-compatible products; this new "LV" variant features an improved buck-boost converter that enables efficient operation from 2 V to 16 V power supplies (Note: it requires an input voltage of at least 3 V to start, but it can operate down to 2 V after startup). The A-Star Primes are arranged in the common Arduino form factor exemplified by the Uno R3 and the Leonardo, so they are compatible with many Arduino shields, including all of the Arduino shields we carry.
In addition to the increased input voltage range for the new A-Star Prime LV, the new regulator also provides more current. The graph below shows the current available on the new LV (ac03e) in blue compared to the old LV (ac03b) in purple. It is important to note that to use the full current available on the new A-Star Prime LV, you must connect to the VREG pin on the board and not the 5V ouput pin. The 5V output pin is limited to about 1.9 A because of the TPS2113A power multiplexer that makes up the board's power selection circuit (a feature that sets the A-Star Primes apart from competing products). The power multiplexer decides whether the board's 5 V supply is sourced from USB or an external supply via the regulator, allowing both sources to be connected at the same time and enabling the A-Star to safely and seamlessly transition between them. The multiplexer is configured to select external power unless the regulator output falls below about 4.5 V. If this happens, it will select the higher of the two sources, which will typically be the USB 5 V bus voltage if the A-Star is connected to USB. More information about the multiplexer can be found in this section of the A-Star 32U4 user's guide under the Power heading.
| | |
| --- | --- |
| Typical maximum output current of the 5 V regulators on the A-Star 32U4 Primes. | Power multiplexing circuit for the A-Star Prime LV. |
The original version of the A-Star Prime LV, which operates from 2.7 V to 11.8 V, is now on clearance for 40% off! If you don't need the increased output current and wider voltage range the new board offers, the previous version is still a great programmable controller to consider. Both the new and original A-Star Prime LVs come in multiple configurations. The complete selection of both versions can be found in the related products list below.
0 comments
Post a comment