MY600 solder paste jet printer arrived!
Posted by
Jan
on 18 May 2018
In my February post about our new equipment, I wrote about why I did not get a jet printer for solder paste. Well, I ended up getting one after all, and it arrived today.
We have a great building, but we don't have loading docks, which always makes these big equipment deliveries a bit more of an adventure. Despite assurances that the crate would be at the back of the truck (and that it would have a lift gate that could handle the weight), it arrived way at the front.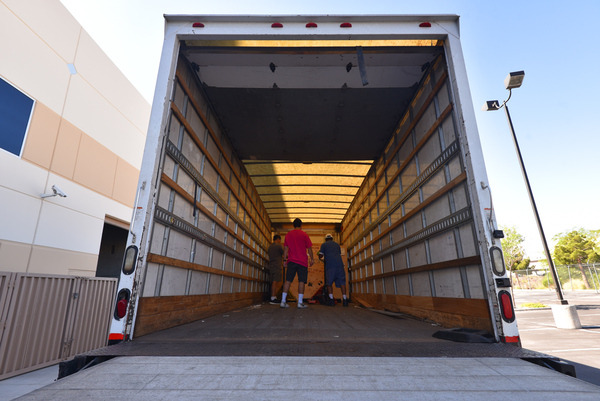 18 May 2018: yet another heavy machine (MY600 jet printer) arrives deep in a truck.
At least it wasn't as big of a crate in as deep of a truck as this time. The Mycronic MY600 jet printer is not the biggest machine, but it weighs a ton because of its granite base. And by "it weighs a ton", I mean literally more than two tons. Especially with the weight of the crate and the other accessories in there, it was way too much for the lift gate. We tried to get two pallet trucks under it but could not get it to move, even after repositioning the truck to make the crate moving downhill.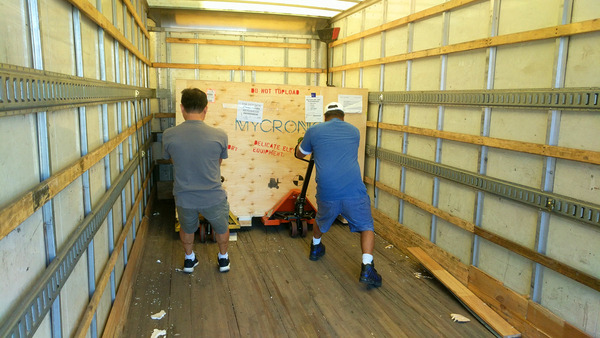 Because of the crate's weight and weight distribution, we couldn't drag it downhill even with two pallet trucks.
The big forklift we rented had not arrived yet, but our smaller forklift was able to add enough pulling power to get the crate to the back of the truck.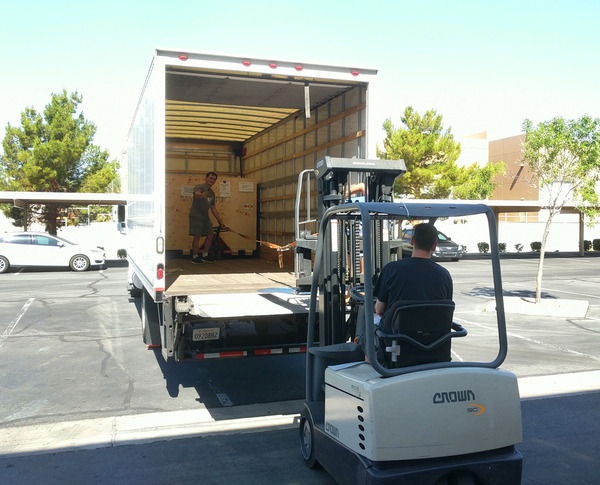 Dragging the MY600 jet printer crate out of the truck with our smaller forklift.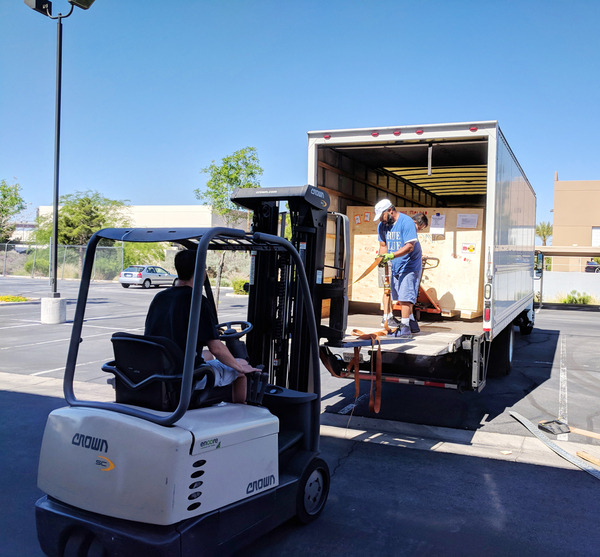 MY600 jet printer crate almost to the back of the truck.
I like noticing that silver Honda in the back of some of these pictures. Here it is almost sixteen years ago (more about our first ten years in Vegas here):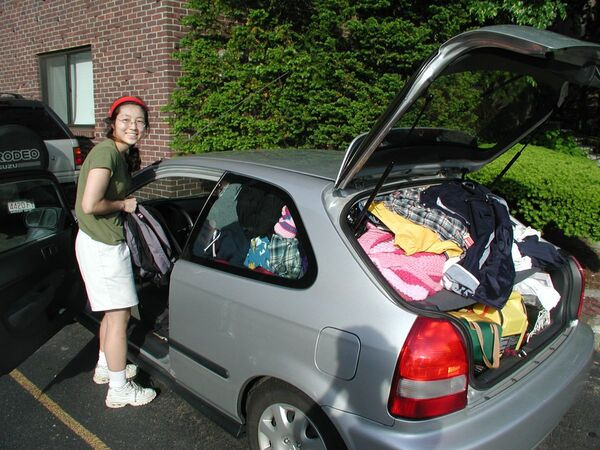 Leaving Watertown, MA on 30 May 2002.
The big forklift arrived just in time to keep us from attempting some small forklift plus lift gate kind of stunt.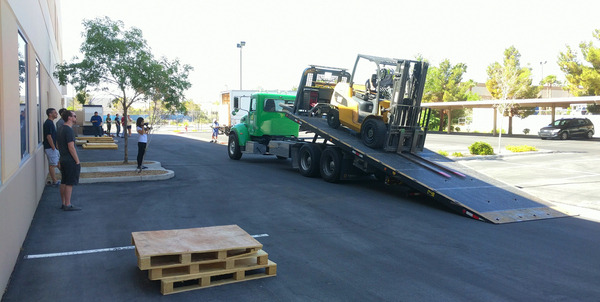 10,000 pound forklift with long forks arrived just in time.
The crate had a very lopsided weight distribution, and the crate had some peculiar skids that required some precision alignment to get the fork into the pocket. (The small gap was too small for the pallet trucks, which contributed to the earlier difficulty in moving the crate with pallet trucks.)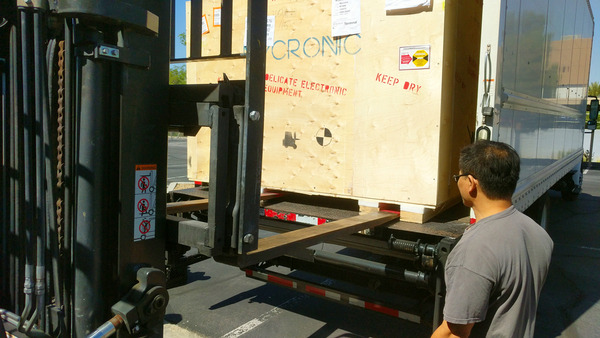 Couldn't they have given us a few more inches for the fork to fit?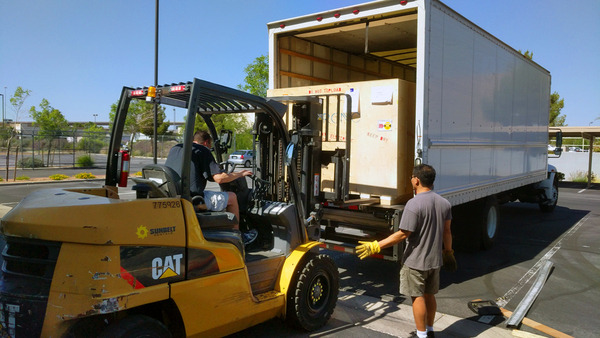 Ryan lining up the forks just right to get under the MY600 jet printer crate.
I really liked truck driver Sharrieff, with a great "we're going to work together and we're going to get this crate down" attitude. I just noticed now as I wrote this up that he's the owner of his trucking company.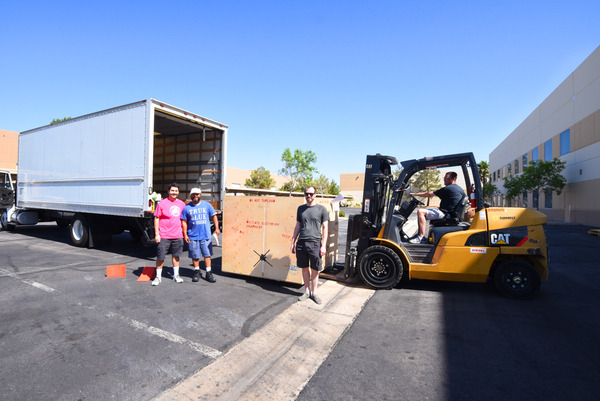 Woo, the crate is safely on the ground!
With the crate in our warehouse and the sides removed, it was easier to see why the weight distribution was so off-center.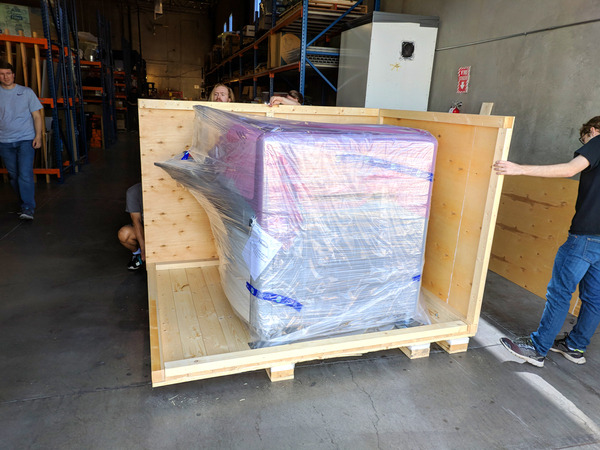 First glimpse of the MY600 jet printer in its crate.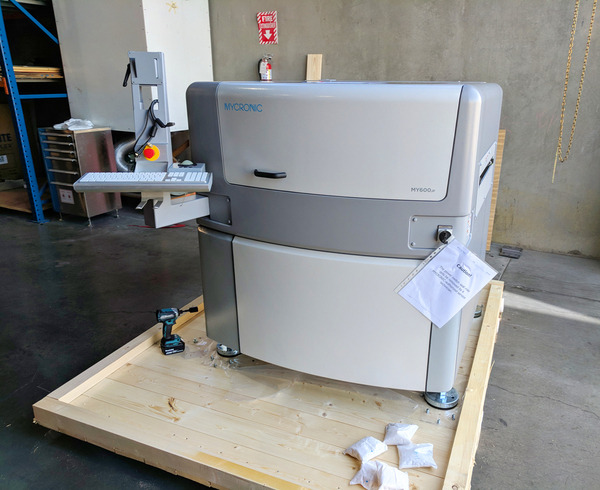 MY600 jet printer unwrapped.
And here it is in its temporary home next to the Europlacer stencil printer we got earlier this year: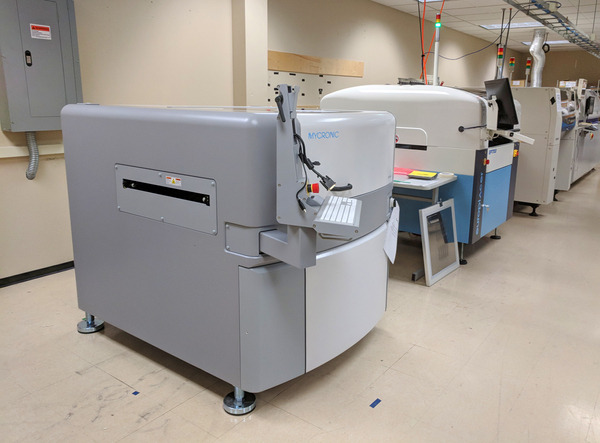 Mycronic MY600 jet printer temporarily in position next to Europlacer stencil printer.
It's a temporary home since we will be doing some major remodeling of our building later this year. At the moment we have two full SMT assembly lines, with the newest pick-and-place machine separately on its own in a batch setup. Once we free up more space on the main manufacturing floor, we should be putting the jet printer in line with the pick and place machine in a third complete line that should be ultra-optimized for efficient manufacturing in small quantities. Installation of the new jet printer isn't until after Memorial Day, and I will be sure to post more updates once we have the machine in action.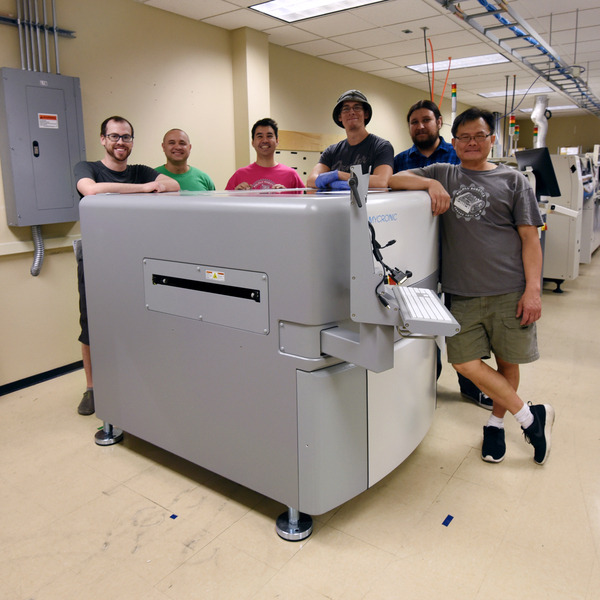 We didn't drop it!
2 comments
Post a comment