New product: Tic T500 USB Multi-Interface Stepper Motor Controller
Posted by
Jan
on 14 March 2018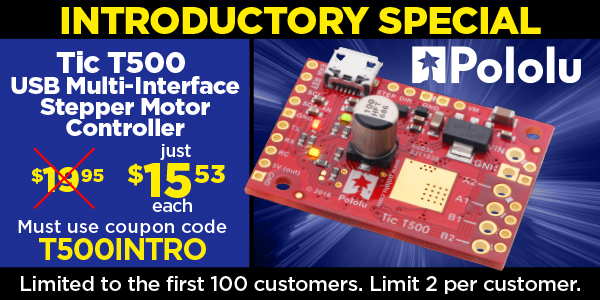 Our Tic stepper motor controllers are pretty awesome, and the new Tic T500 we released today should make stepper motors even more accessible for your next project. This latest version features a broad 4.5 V to 35 V operating range that covers everything from small 2-cell lithium battery packs up to 24 V batteries or power supplies while costing just $20 in single-piece quantities. This video gives you a quick overview of what the Tic stepper motor controllers offer:
The Tics make basic speed or position control of a stepper motor easy, with support for six high-level control interfaces:
USB for direct connection to a computer
TTL serial operating at 5 V for use with a microcontroller
I²C for use with a microcontroller
RC hobby servo pulses for use in an RC system
Analog voltage for use with a potentiometer or analog joystick
Quadrature encoder input for use with a rotary encoder dial, allowing full rotation without limits (not for position feedback)
The Tic T500 is available with connectors soldered in or without connectors soldered in. Here is a handy comparison chart with all three Tic stepper motor controllers:

Tic T500

Tic T834

Tic T825
Operating voltage range:
4.5 V to 35 V(1)
2.5 V to 10.8 V
8.5 V to 45 V(1)
Max current per phase
(no additional cooling):
1.5 A
1.5 A
1.5 A
Microstep resolutions:
full
half
1/4
1/8
full
half
1/4
1/8
1/16
1/32
full
half
1/4
1/8
1/16
1/32
Automatic decay selection:
Price (connectors not soldered):
$44.95
$59.95
$59.95
Price (connectors soldered):
$46.95
$61.95
$61.95
1 See product pages and user's guide for operating voltage limitations.
Basically, the new T500 does not offer the finer microstep resolutions of the T834 and T825, and the T834 supports very low operating voltages while the T825 supports higher operating voltages.
For those of you interested in more of the details of the stepper motor driver, the Tic T500 uses the new MP6500 from MPS, which we also offer on some low-cost MP6500 breakout boards with analog (small trimmer potentiometer) and digital (via PWM) current limit setting options.
In keeping with the tradition we started this year, we are offering an extra discount for the first customers, to help share in our celebration of releasing a new product. The first hundred customers to use coupon code T500INTRO can get up to two units for just $15.53! (Click to add the coupon code to your cart.) And we'll even cover the shipping in the US! Note that this introductory offer applies only to the units without connectors soldered in.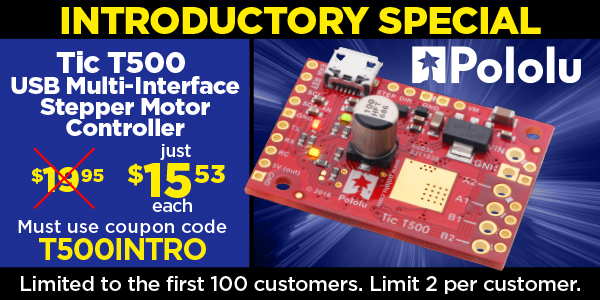 2 comments
Post a comment