New track sets and colorful Zumo sprockets
Posted by
Ben
on 22 September 2017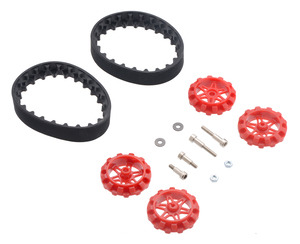 Pololu 22T Track Set – Red.
We have replaced our original Pololu track sets with new versions featuring our newer style of spoked Zumo sprockets. The sprockets are available in three colors, and like our original sets, we have two different track lengths to choose from:
Each track is made of a single piece of flexible silicone, and the drive sprockets are designed to work with 3mm D-shafts, such as those on our micro metal gearmotors and most of our mini plastic gearmotors.
| | |
| --- | --- |
| Dimensions of the Pololu 22T track set. | Dimensions of the Pololu 30T track set. |
Additionally, we are offering sprockets by themselves (without tracks or fasteners) for use as replacements for the black sprockets included with our Zumo robots: you can use the red sprockets to add a splash of color, and you can use the white sprockets for painting (or just leave them white!).
| | |
| --- | --- |
| Zumo 32U4 robot with red sprockets. | Zumo 32U4 robot with white sprockets. |
0 comments
Post a comment