New products: Addressable RGB LED strips based on the SK6812
Posted by
David
on 2 November 2016
We are now selling new addressable RGB LED strips based on the SK6812. These LED strips replace our older WS2812B LED strips. Like the WS2812B, the SK6812 is an RGB LED with an integrated driver that allows independent control over a chain of LEDs using just one I/O line. The main difference between the two drivers is that the SK6812 has constant current control capabilities that let it have a voltage-independent color and brightness over a wide range of voltages, so any voltage drop due to long power lines is less of a concern.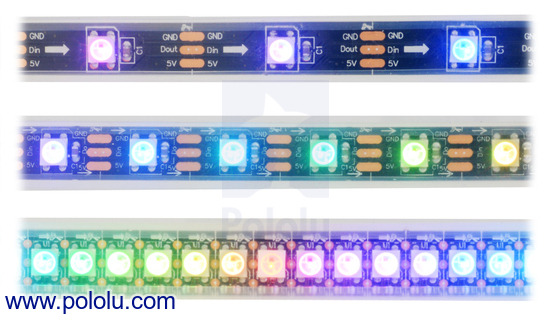 LED side of the SK6812-based addressable LED strips, showing 30 LEDs/m (top), 60 LEDs/m (middle), and 144 LEDs/m (bottom).
We offer six different kinds of SK6812 LED strip with different LED densities and lengths. Our strips with 30 LEDs per meter are available in three lengths:
We also offer denser SK6812 LED strips that have 60 LEDs per meter:
Our highest density strip has 144 LEDs per meter:
We provide LED strip example code for the Arduino, AVR, and mbed microcontroller platforms. More information about the LED strips and how to use them can be found on the LED strip product page.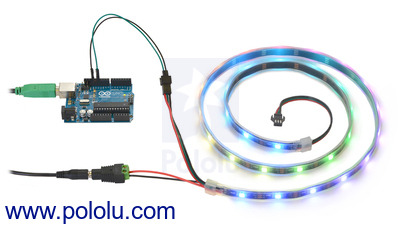 Controlling an addressable RGB LED strip with an Arduino and powering it from a 5V wall power adapter.
0 comments
Post a comment