New product: VL6180X Time-of-Flight Distance Sensor Carrier
Posted by
Kevin
on 25 September 2015
There's another new product coming out of the assembly line here at Pololu: the VL6180X Time-of-Flight Distance Sensor Carrier. The VL6180 from ST Microelectronics distinguishes itself from other optical sensors by using time-of-flight measurements to determine distance: it emits pulses of infrared laser light and precisely times how long they take to reach the nearest object and reflect back to the sensor, which means it is essentially a complete short-range lidar system in a single tiny package.
With this technique, the VL6180X can accurately measure the absolute distance to a target object from 0 cm to at least 10 cm away – sometimes up to 20 cm away, depending on the target and environment – without being affected by what color the target is or how reflective it is.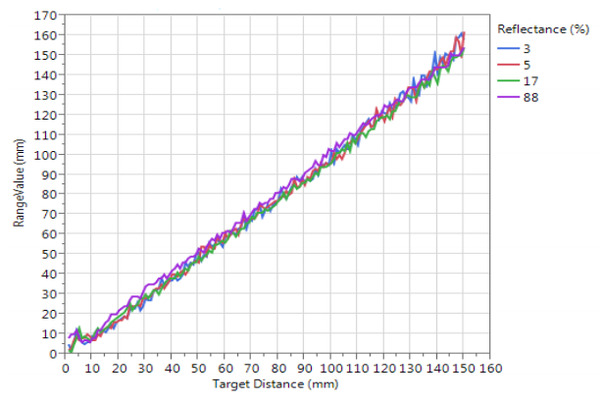 VL6180X datasheet graph of typical ranging performance.
Distance readings can be obtained through the sensor's I²C interface (in units of millimeters – no complicated conversions necessary!). The VL6180X also includes an ambient light sensor; this combination of sensing capabilities is useful for applications, including smartphones, for which the VL6180 was designed.
The VL6180X IC by itself is a challenge to use because of its small surface-mount package and particular voltage requirements, so our breakout board includes a 2.8 V regulator and level shifters that allow it to be used with 3.3 V and 5 V systems. The carrier board provides a breadboard-friendly pinout and mounting holes while remaining as compact as possible (0.5″ × 0.7″). We've also written an Arduino library for the VL6180X that makes it easy to get started with this board.
For more information about the VL6180X carrier, see its product page.
9 comments
Post a comment