New products: Stepper motors with lead screws, traveling nut, and mounting bracket for NEMA 23 stepper motors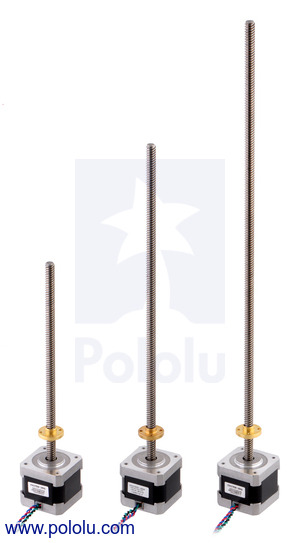 NEMA 17-size stepper motors with 18, 28, and 38cm lead screws.
Since we started carrying the stepper motor with 28cm lead screw, we have routinely received requests for shorter and longer versions of it, so we are happy to announce that we are now carrying two additional versions: one with an 18 cm lead screw and one with a 38 cm lead screw. All three of the stepper motors with lead screw use the same NEMA 17-size stepper motor, which is also available without a lead screw.
All of the stepper motors with lead screw come with a traveling nut, also known as a carriage nut. This copper alloy nut features a mounting flange with four holes threaded for M3 screws to make it easy to integrate into your project. From time to time, we also get requests to make the traveling nut available for purchase separately, so we did! If you are interested in picking up some spare traveling nuts, more information can be found on the traveling nut's product page.
We also have a new NEMA 23 stepper motor bracket as pictured above. Around eight months ago, we started carrying our stamped aluminum mounting bracket for NEMA-17 size stepper motors, and since then, we added a stamped aluminum NEMA 14 stepper motor bracket to our selection. We looked into getting similar aluminum bracket for NEMA 23-size stepper motors but ultimately decided to go with a more rigid 3mm-thick steel mounting bracket for NEMA 23 stepper motors. On this bracket, two steel supports are welded in the corner along the bend of the bracket to provide extra reinforcement.
0 comments
Post a comment