Pololu Stamped Aluminum L-Bracket for NEMA 17 Stepper Motors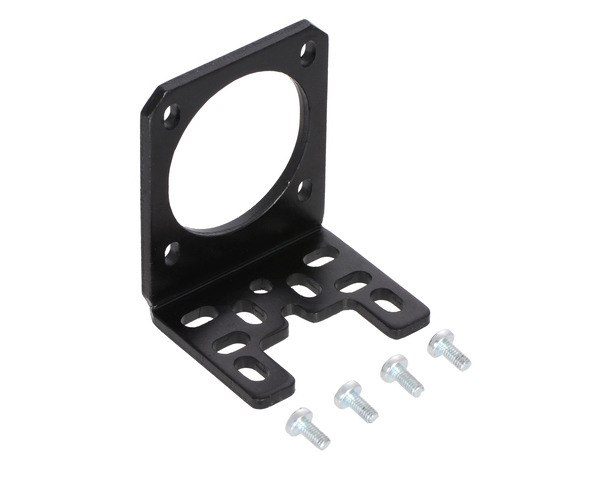 This black anodized aluminum bracket lets you securely mount typical NEMA 17-size stepper motors to your project. The bracket features several slots and holes for a wide variety of mounting solutions, and four M3×6mm screws are included for securing the motor to the bracket.

Compare all products in Motor Brackets.
This lightweight (about 15 g) but strong bracket is made from 3mm-thick black anodized aluminum and is specifically designed to work with the typical faceplate mounting holes of NEMA 17 stepper motors. The slots through which the motor mounts to the bracket allow for 2 mm of play for fine-tuning position, and four 6 mm M3 screws are included for securing the motor to the bracket (note: these M3 screws work with all of the NEMA 17 stepper motors we carry; different screws might be required when using this bracket with stepper motors from other suppliers). The other side of the bracket includes a variety of slots and holes that can be used with #6, #8 and M4 screws.
This bracket makes it easy to mount and integrate NEMA 17 size motors like our stepper motor with lead screw into your project. These brackets also fit the 42×18.6mm Sanyo pancake motor and the 42×11.6mm Sanyo pancake motor, though the two Sanyo motors have short output shafts that will only extend two millimeters past the edge of the bracket.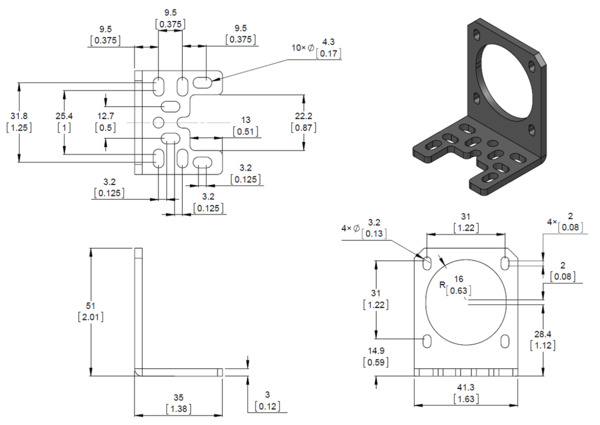 Dimension diagram of the Pololu stamped aluminum L-bracket for NEMA 17 stepper motors. Units are mm over [inches].
This drawing is also available as a downloadable PDF (178k pdf).
People often buy this product together with: