New product: A-Star 32U4 Prime SV
Posted by
Paul
on 31 December 2014
It has been snowing on and off today in Las Vegas, but luckily the weather was not bad enough to delay our last product release of 2014: the A-Star 32U4 Prime SV. We hope that this and the other A-Stars we released this year will help bring success to your projects in 2015. Thanks for your business and support in 2014, and Happy New Year!
The A-Star 32U4 Prime SV, our newest A-Star, is an Arduino-compatible board with a switching regulator that allows an input voltage range of 5 V to 36 V. Like the A-Star 32U4 Prime LV we released earlier this month, the A-Star 32U4 Prime SV shares the pinout and form factor of the Arduino Leonardo and should work with compatible shields.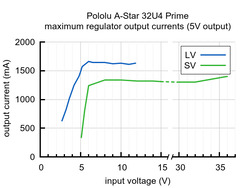 What really sets the A-Star 32U4 Primes apart from competing products is their power supply system based on high-efficiency switching regulators, which allow plenty of power to drive your microcontroller and lots of peripherals over a large range of input voltages. The A-Star 32U4 Prime SV uses the Intersil ISL85410 1-Amp buck regulator, a more powerful relative of the regulator on A-Star 32U4 Mini SV. So you get 1 A at 5 V over most of the SV input voltage range. (We recommend an input voltage of at least 6 V.) And since a switching regulator draws less current as the voltage increases, you can get a lot more out of higher-voltage power supplies and battery packs. In a typical usage scenario, if you power your project with a 12 V battery, the A-Star 32U4 Prime SV will draw about half the current of a competing product with a linear regulator – and last twice as long on a single charge.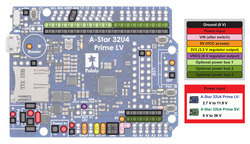 A-Star 32U4 Prime power distribution diagram (original ac03b version).
Like the A-Star 32U4 Prime LV, the SV has a bunch of features designed to make it easy for you to make use of the power. The TPS2113A USB power mux allows you to safely and seamlessly switch between a battery and USB power (up to 1.5 A using a powerful enough USB supply), without the limitations of diodes or fuses. We included a handy power switch for your external power input, extra connection options in case you don't want to use the standard DC power jack, extra access points for the important power nodes VIN, VREG, 5V, and 3V3, and big power and ground buses.
The A-Star 32U4 Prime SV includes all the same peripheral features as the A-Star 32U4 Prime LV: battery voltage monitoring, three user pushbuttons (sharing the MISO, RXLED, and TXLED lines), a buzzer optionally controlled by digital pin 6, a connector for an HD44780-based character LCD, and – on some models – a microSD card slot that works with the Arduino SD library. Here is an SV with all the optional peripherals installed:
You can purchase this configuration pre-assembled as Pololu item #3115, or get it with almost everything but the LCD as Pololu item #3114. (You can still install an LCD yourself later.) For other configuration options, please see the individual product pages below or the A-Star 32U4 Prime SV category page.
0 comments
Post a comment