New products: Pololu Carriers with Sharp GP2Y0A60SZLF Analog Distance Sensor 10-150cm
Posted by
Grant
on 18 September 2014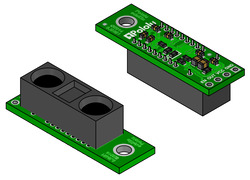 3D rendering of the Pololu carrier with Sharp GP2Y0A60SZLF distance sensor.
We have released some simple boards over the past few weeks that were developed by our mechanical engineers (see earlier posts for Jon's board and Brandon's board). The board I got to design is a carrier board for the Sharp GP2Y0A60SZ 10-150cm analog distance sensor, which is a part we have been trying to get for almost five years.
While the board itself is simple, the GP2Y0A60SZ is exciting for us because it pretty much outperforms all of the other analog Sharp distance sensors. In particular, compared to the more expensive Sharp GP2Y0A02YK0F, which can also detect objects out to a maximum distance of 150 cm, the GP2Y0A60SZ offers half the minimum sensing distance (10 cm) and more than twice the update rate (60 Hz) in a much smaller package: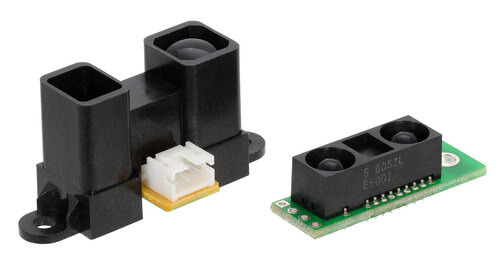 Sharp GP2Y0A02YK0F Sensor 20-150cm (left) next to Pololu Carrier with Sharp GP2Y0A60SZLF Sensor 10-150cm (right).
One application of these sensors that I am looking forward to is mini-sumo. The features on the sensor make them a great addition to a mini-sumo robot like the one I built for the LVBots mini-sumo competition last year. With these on my robot (the one with the Magikarp on it), I might be able to knock out a few more competitors the next time we have a competition.
5V and 3V versions available
Our sensor carrier is available in two versions: a 5V version for operation from 2.7 V to 5.5 V and a 3V version for operation from 2.7 V to 3.6 V:
For more information, see the product pages or check out our entire category of optical range finders.
9 comments
Post a comment