Leviathan: an autonomous Raspberry Pi-controlled electric boat
Posted by
Jon
on 11 September 2014
Heikki Leivo and Matti Koljonen are currently working together to develop a miniature autonomous electric boat, which they are calling Leviathan. The boat is made of polystyrene foam, uses brushed DC motors and servos for movement, and is controlled by a Raspberry Pi, which reads data from GPS and a MinIMU-9 inertial measurement unit for navigation. Leviathan is equipped with a camera and also features a D24V6ALV step-down regulator for powering servos and other electronics. The boat is also controllable over WiFi.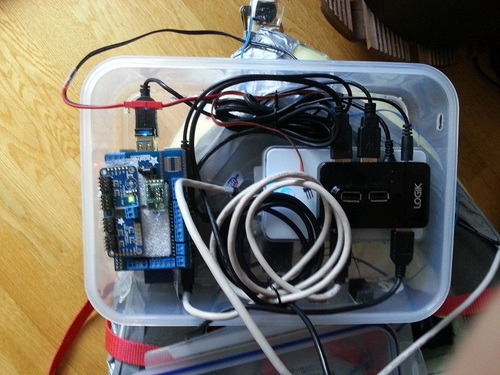 The electronics inside Leviathan.
Matti and Heikki plan for their vehicle to be able to run pre-defined routes, capture photos, and record video, among other things. You can learn more about Leviathan on its website.
6 comments
Post a comment