Tamiya 75020 Line Tracing Snail Kit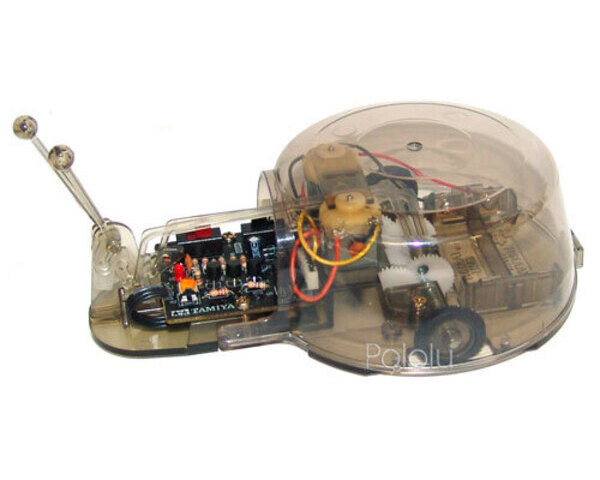 The Line Tracing Snail is an excellent, low-cost robot for a new robotics enthusiast that has no previous experience with robots or electronics. All electronics are completely pre-assembled, and mechanical assembly is very straightforward. The snail has two speeds, and for added fun and entertainment, the eye stalks wiggle back and forth as the robot runs.
Overview
The Line Tracing Snail uses a infrared LED and a photo transistor to detect a black line (magic marker, electrical tape, etc.) drawn on a white background. It uses two small motors and rubber tires to slowly but surely follow the line. The body of the snail is made of transparent plastic to allow viewing of the mechanisms inside.
To follow a line, the snail emits infrared light from the an LED on the underside of its chassis. A photo transistor picks up the reflection of the infrared light to distinguish black from white surface. A potentiometer allows you to adjust the transistor sensitivity for various surface types and line widths. The snail's speed is controlled with a switch. It has a low-speed mode suitable for fine lines and narrow areas and a high-speed that works best for wide areas and thick lines.
To assemble this kit you will need a modeling knife, screwdriver, diagonal cutters, and long nose pliers.
Features
Total height: 6.9" (176 mm)
Motors: two type FA-130 motors (sensor unit and motor come pre-wired).
Batteries: two AA batteries (not included)
Battery life (with alkaline batteries)

Low-speed: approximately 2 hours
High-speed: approximately 3 hours
Note: The line-tracing snail is a kit; assembly is required. Two AA batteries are required but not included. Strong sunlight or lamp light may interfere with the sensor. Please use this product indoors or in shady areas. Adjust transistor sensitivity and line width to best suit snail running environment.
People often buy this product together with: