Tamiya 58321 Super Clod Buster Kit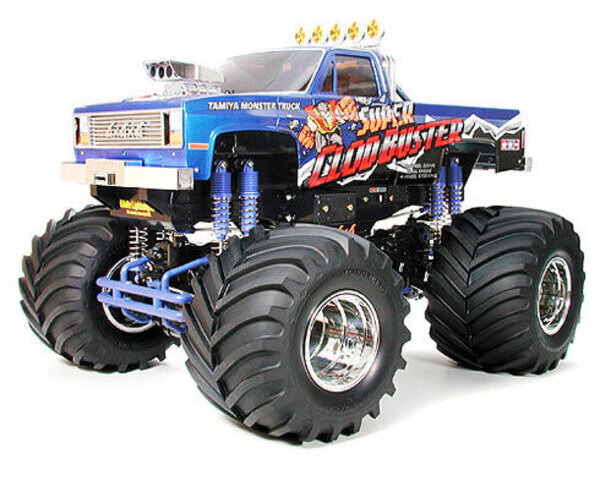 The Tamiya 58321 Super Clod Buster is a great starting point for a medium-sized outdoor robot. The chassis uses one servo for steering and one for electronic speed control, making it controllable with a 2-channel RC receiver or just two microcontroller I/O lines.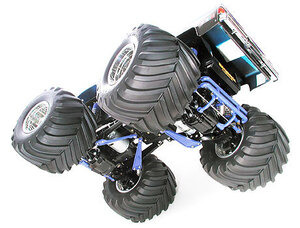 Tamiya 58321 Super Clod Buster Kit bottom view.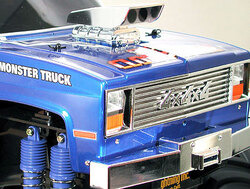 Tamiya 58321 Super Clod Buster Kit front close-up.
Tamiya's Super Clod Buster assembly kit features an American pick-up truck like body that gives it a realistic appearance. The front grill, air intake and roll bar are made from metal plated parts. The Super Clod Buster features a twin-motor dual-gearbox four-wheel drive (4WD) train, a durable link-arm, 8 coil springs for suspension and massive 6.5" diameter tires let it run over many outdoor obstacles.
Two motors and 4WS system
The Super Clod Buster is equipped with two motors and two tightly sealed gearboxes that have been molded as one piece with the axle housing. Minimum power loss and smooth cornering are obtained thanks to a gear train transmission and differentials. A switch selects between powerful and economy gear configurations depending on the terrain where you wish to run the truck. This monster truck's four-wheel steering (4WS) system is capable of using the front and rear wheels for steering allowing for tighter cornering and better control.
About the Model
Size: 480 x 380 x 340 mm (18.9" x 15.0" x 13.4")
Twin-motor dual gearbox 4WD drive train
A durable link-arm and 8 coil springs support the massive 165 mm (6.5") diameter tires.
Metal plated front grill, air-intake, roll bar, hubs and front and rear bumper.
3-step mechanical speed controller.
Includes PTC safety switch to reduce possibility of overheating.
Resistor comes pre-assembled.
Required Components
The super clod buster kit requires (but does not include) two servos.
Note: The Super Clod Buster is a kit that requires assembly. Servos, batteries, and electronics are not included in the kit.