Tamiya 58280 TXT-1 (4x4x4)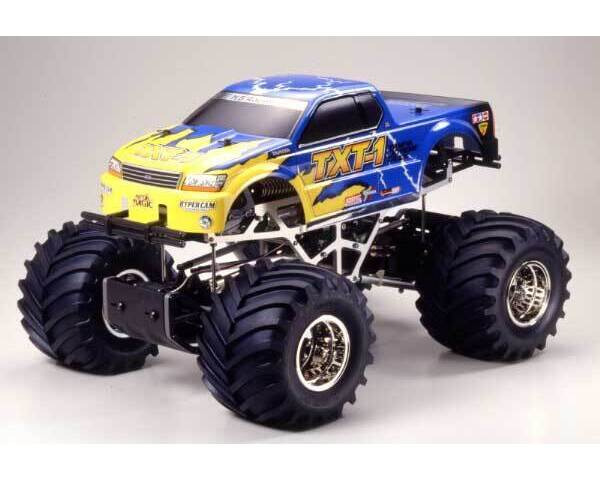 The TXT-1 is designed like a full-size monster truck with an aluminum ladder frame and multi-link suspension. Solid axles with a cantilever system allows for massive suspension articulation. This kit includes hardware and a second servo saver for four wheel steering. The servos are located next to the axles for direct steering. The kit requires a 2 or 3 channel radio and can operate on a 7.2V or 8.4V battery.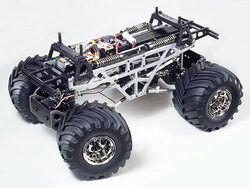 Chassis for the Tamiya 58280 TXT-1.
The Tamiya TXT-1 (Tamiya Xtreme Truck) is the ultimate 1/10 scale monster truck chassis, making it a great starting point for a medium-sized outdoor robot. The 4 x 4 x 4 chassis gives you power and steering on all four wheels for maximum control and maneuverability of your robot. The gear ratio is higher than on many similar-looking models since this truck is geared toward rock climbing rather than racing. The stock cantilever suspension system provides a huge amount of travel to help ensure that you won't get stuck.
The kit includes two 540-sized motors and most of the hardware and mechanical components necessary to get up and running. For typical radio control installations, a radio system and 6-cell battery are necessary; for robotics applications, a high-power motor controller and robot controller would replace the RC receiver. Each pair of wheels is steered by a separate servo, so two servos are required to achieve four-wheel steering. Due to the size and weight of the chassis, we recommend high-torque or giant servos for the best control.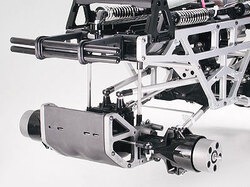 Wheel base for the Tamiya 58280 TXT-1.
Feel the Power of Twin Motor 4WD!
This R/C machine packs all the power of an American monster truck. Tamiya invites you to feel the rumble of parallel twin motors transferring power to the propeller shaft and front/rear axles as this bad-boy takes on extreme 4 x 4 off-road action.
Heavy-duty Parts for Rugged Driving
Aluminum side frames and suspension arms add a customized feel and ensure high durability. The TXT-1 features a 2-level gearbox for efficient power transmission.
High Performance Wheels
The 4-link rigid wheels feature push rods and locking arms as well as dampers that employ cantilever suspension. The extraordinary suspension stroke and monster tires allow the TXT-1 to handle the hardest of roads.
510 mm (20 inch) Giant
This gargantuan R/C truck has a total length of 510 mm (20.1") and a total width of 385 mm (15.2"). The model emulates the crushing power demonstrated by real-sized American monster trucks as they pound their way over rows of junkyard cars. This unique colossus needs no roads, simply grab the transmitter and watch as the TXT-1 paves a path of its own.
Specifications
Size: 510 x 385 x 297 mm (20.1" x 15.2" x 11.7")
Minimum clearance: 49 mm (1.9")
Weight fully equipped: 11 lbs. (including two TP-S3003 servo, TP-R122JE receiver, and RC2400SP battery)
Wheel base: 330 mm (13.0")
Tread (front and rear): 280 mm (11.0")
Chassis material: aluminum
Chassis type: ladder frame
Steering tie rods: divided in two segments
Suspension (front and rear): 4-link rigid
Caster angle (front and rear): 0 deg.
Camber angle (front and rear): 0 deg.
Toe angle (front and rear): 0 deg.
Dampers (front and rear): CVA damper
Drive train: shaft drive 4WD
Gear ratio: 34:1
Two type 540 motors
Diff gear system (front and rear): 3 bevel diff
Speed controller: 3-step speed controller
Tire width (front and rear): 106 mm (4.2")
Tire diameter (front and rear): 165 mm (6.5")
Tire pattern (front and rear): Lug pattern
Note: The 52820 TXT-1 Tamiya Xtreme Truck is a kit that requires assembly. Servos, batteries, and electronics are not included in the kit.