Motoron M1U256 Single Serial Motor Controller (Header Pins Soldered)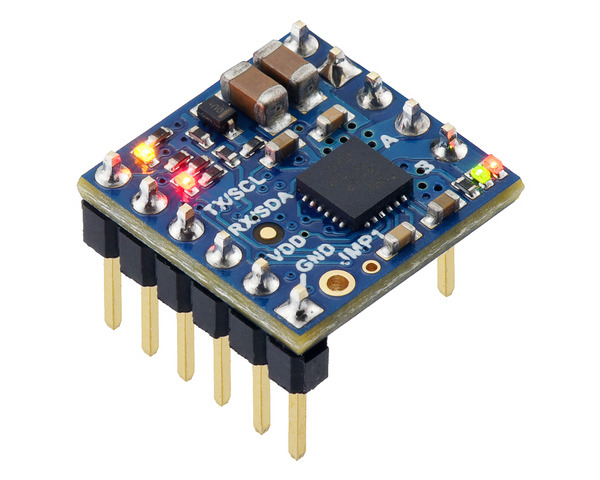 The Motoron M1U256 Single I²C Motor Controller offers a compact solution for controlling one DC motor using a UART serial interface. Multiple Motoron controllers can be connected to the same serial bus, making it easy to expand a system with additional motors. The M1U256 operates from 4.5 V to 48 V and can deliver continuous output currents up to 2.2 A. This version ships with soldered headers.
Alternatives available with variations in these parameter(s): control interface header pins soldered? Select variant…

Compare all products in Motoron M1x256 Single Motor Controllers.
Dimensions
| | |
| --- | --- |
| Size: | 0.6″ × 0.6″ |
| Weight: | 1.9 g |
General specifications
| | |
| --- | --- |
| Channels: | 1 |
| Model: | Motoron M1U256 |
| Control interface: | non-inverted TTL serial (UART) |
| Minimum operating voltage: | 4.5 V |
| Maximum operating voltage: | 48 V1 |
| Continuous output current per channel: | 2.2 A |
| Peak output current per channel: | 6.4 A |
| Reverse voltage protection?: | Y2 |
| Header pins soldered?: | Y |
Identifying markings
| | |
| --- | --- |
| PCB dev codes: | mc1u42a |
| Other PCB markings: | 0J13902 |
Notes: