Pololu Multi-Hub Wheel w/Inserts for 3mm and 4mm Shafts - 80×10mm, Black, 2-Pack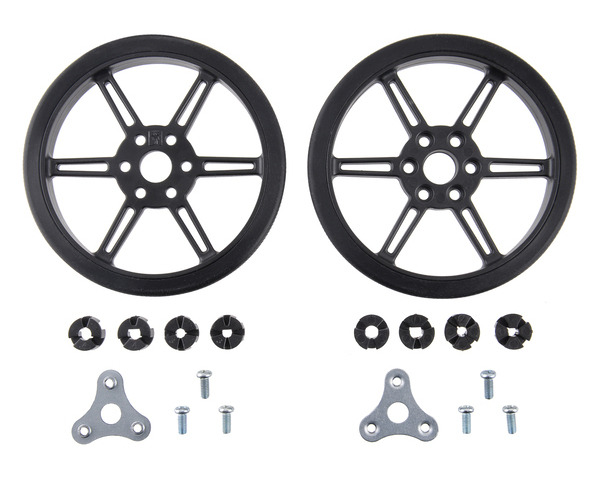 These versatile black plastic wheels have silicone tires and measure 80 mm (3.15″) in diameter. What makes them special is the included set of interchangeable collets that can be inserted into the wheel to firmly grab four different shaft types: 3mm D, 3mm round, 4mm D, and 4mm round. The collet inserts start with a comfortably loose fit on their intended shafts, and unlike simple press-fit wheels, their grip on the shaft gets progressively tighter as they are compressed into the wheel disc, reducing the chances that the shaft will be able to slip within the wheel. This product is a pair of wheels.
Alternatives available with variations in these parameter(s): color Select variant…

Compare all products in Pololu Wheels for 3mm D-Shafts or

Pololu Wheels and Tracks or

Wheels.
- 31 October 2018

This short video shows how to install one of our multi-hub wheels on a motor. These wheels are currently available as an 80×10mm black pair and an...

- 29 June 2018

I have some exciting new wheels to tell you about (available as an 80×10mm black pair and an 80×10mm white pair). With a few small exceptions, all...