Right Bumper Switch Assembly for Romi/TI-RSLK MAX (Through-Hole Pins Soldered)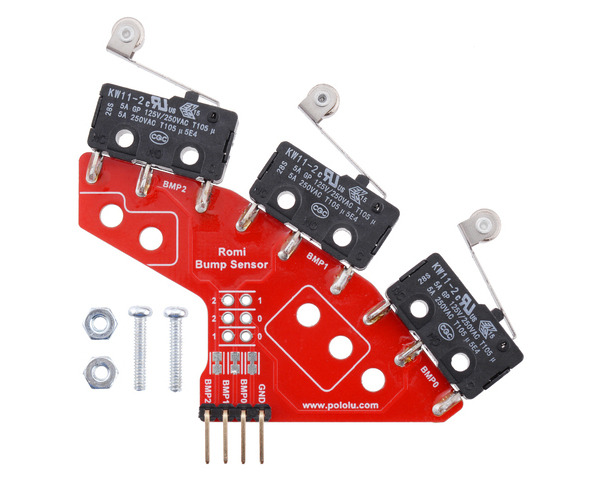 This bump sensor module is designed specifically for use with Romi or TI-RSLK MAX robots based on the TI-RSLK Chassis Board v1.0, and it is included as part of the Pololu Chassis Kit for TI-RSLK MAX. It features three snap-action switches with roller levers and positions them along the right front edge of the Romi chassis, allowing the robot to determine where it has encountered an obstacle based on which switches get depressed. This module ships with the switches and right-angle header pins soldered, so no soldering is required to use it, and it is intended to be paired on the chassis with the Left Bumper Switch Assembly. A kit version is also available.

Compare all products in TI Robotics System Learning Kit MAX (TI-RSLK MAX) Parts and Accessories.
Dimensions
Identifying markings
| | |
| --- | --- |
| PCB dev codes: | rom06a |
| Other PCB markings: | 0J12103 |
Notes: