FEETECH Ultra-High-Torque, High-Voltage Digital Giant Servo FT5335M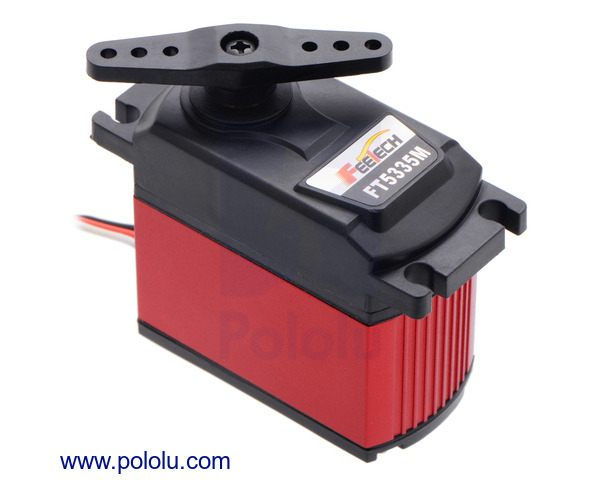 The FEETECH FT5335M servo is all about torque. This 1/4-scale digital servo can deliver an incredible 550 oz-in of torque at 7.4 V or 480 oz-in at 6 V thanks to its powerful motor and all-metal gear train. The FT5335M is a high-voltage servo, offering an operating voltage range of 6 V to 7.4 V. Servo horns and associated hardware are included. This servo can work with both 5 V and 3.3 V servo signals.

Key specs at 7.4 V: 0.18 sec/60°, 550 oz-in (40 kg-cm), 180 g.
Dimensions
| | |
| --- | --- |
| Size: | 62.8 × 32.5 × 55.9 mm |
| Weight: | 180 g |
General specifications
| | |
| --- | --- |
| Digital?: | Y |
| Speed @ 7.4V: | 0.18 sec/60° |
| Stall torque @ 7.4V: | 40 kg·cm |
| Speed @ 6V: | 0.20 sec/60° |
| Stall torque @ 6V: | 35 kg·cm |
| Hardware included?: | Y |
| Lead length: | 12 in |