MP6500 Stepper Motor Driver Carrier, Digital Current Control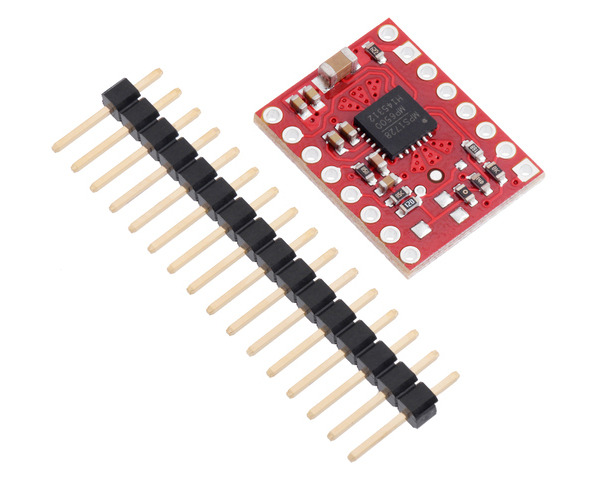 This breakout board for the MPS MP6500 microstepping bipolar stepper motor driver has a pinout and interface that are very similar to that of our popular A4988 carriers, so it can be used as a drop-in replacement for those boards in many applications. The MP6500 offers up to 1/8-step microstepping, operates from 4.5 V to 35 V, and can deliver up to approximately 1.5 A per phase continuously without a heat sink or forced air flow. This version of the board allows for dynamic current limit control through a pair of digital inputs, and the board ships with 0.1″ male header pins included but not soldered in.
Alternatives available with variations in these parameter(s): current limit control header pins soldered? Select variant…

Compare all products in MP6500 Stepper Motor Driver Carriers or

16-pin Stepper Motor Drivers.
Dimensions
| | |
| --- | --- |
| Size: | 0.6″ × 0.8″ |
| Weight: | 1.4 g1 |
General specifications
| | |
| --- | --- |
| Minimum operating voltage: | 4.5 V |
| Maximum operating voltage: | 35 V |
| Continuous current per phase: | 1.5 A2 |
| Maximum current per phase: | 2 A3 |
| Minimum logic voltage: | 2.1 V4 |
| Maximum logic voltage: | 6 V5 |
| Microstep resolutions: | full, 1/2, 1/4, and 1/8 |
| Current limit control: | digital |
| Reverse voltage protection?: | N |
| Header pins soldered?: | N |
Identifying markings
| | |
| --- | --- |
| PCB dev codes: | md33a, md33b |
| Other PCB markings: | 0J10855, 0J11019 |
Notes: