Hydra Smart Triple-Output DC Power Supply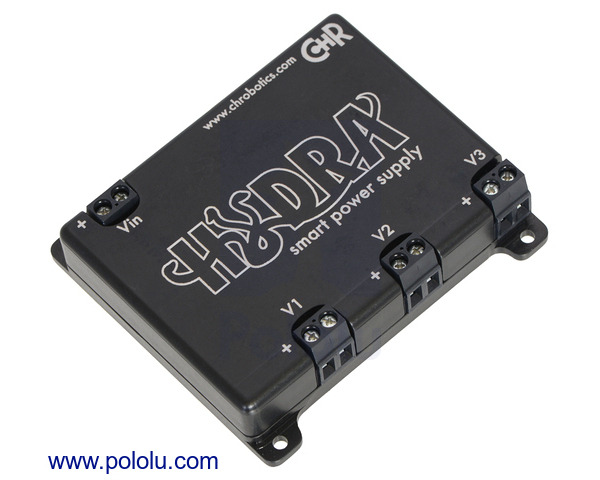 The Hydra is a triple-output power converter from CH Robotics designed to make it easier to get the power you need for your next project. With its palm-sized aluminum case, the Hydra provides all the flexibility of a bench-top supply and only uses a fraction of the desk space. Each of the three outputs can supply about 12 W maximum at voltages ranging from 2.5 V to 14 V, and they can be controlled from a computer via USB or a microcontroller via serial.
Recommended links
Use the Smart Power Supply application to control the Hydra. Currently available only for Windows machines (XP, Vista, 7, 8). (NOTE: The Smart Power application requires .NET 4.0 or later framework for Windows. If you have Windows XP, you'll need to install .NET 4.0 because Microsoft chose not to support .NET 4.5 for XP)
These drivers are required to connect to the Hydra from a computer.

| | |
| --- | --- |
| CHR Serial Interface. | Graph of quaternions displayed by the CHR Serial Interface connected to a UM7/UM7-LT orientation sensor. |

The CH Robotics forum is the best place to get in-depth technical support for CH Robotics products.