Overview
The Hydra is a triple-output power converter from CH Robotics designed to make it easier to get the power you need for your next project. Simply connect a battery or AC/DC adapter to the Hydra and you will have access to three independent, software-configurable, DC output voltages to power your system.
With its palm-sized aluminum case, the Hydra provides all the flexibility of a bench-top supply and only uses a fraction of the desk space. Unlike many bench-top supplies, its compact size allows it to be easily portable. This flexibility makes it a great power solution, whether you are making a small mobile robot or an industrial system.
| | |
| --- | --- |
| Hydra input voltage terminal (Vin) and configuration interface ports (serial pins and USB mini-B). | Hydra output terminals (V1, V2, and V3). |
You can configure and control the Hydra from a computer through USB or microcontroller such as an Arduino via serial. The CH Robotics Smart Power Supply Control Software provides an easy-to-use interface to for controlling the Hydra from a computer, while the CH Robotics Serial Interface Software can be used to configure the Hydra at the register level and plot the data in real-time.
The Hydra can be powered by connecting an input voltage between 5 V and 14 V to the Vin terminal block. Each of the three outputs can supply up to about 12 W at voltages ranging from 2.5 V to 14.0 V (for example, they can supply a maximum of 2.5 A at 5 V). A 6′ USB A to mini-B cable is included for connecting the Hydra to a computer.
The Hydra does not come with a wall power adapter. If you want to power the Hydra with an AC-to-DC converter, we recommend using our 12 V, 3 A wall power adapter. You can connect the adapter to the Hydra by cutting off its barrel plug and stripping the wires at the end of the cord, or you can use it with our DC barrel jack to 2-pin terminal block adapter and a separate pair of wires.
The Hydra is packed with features, including ESD and surge protection on all inputs and outputs, reverse polarity protection, over-current protection, automatic thermal shutdown, and user-adjustable output current limits. More information can be found in its datasheet (1MB pdf).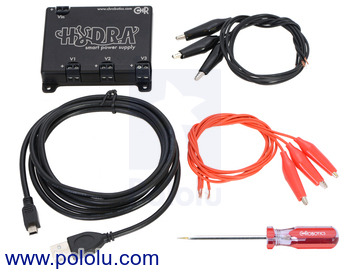 Hydra smart triple-output DC power supply with included components.
Features
One input, three independent outputs
Control via USB or serial
Easy to use Smart Power Supply Control Software for use with Windows
Adjustable output current limits
Current control mode allows the Hydra to act as a current source (drives high power LEDs, etc.)
CNC-machined, anodized aluminum enclosure
Output short circuit protection
Thermal shutdown
ESD and surge protection on all inputs and outputs
Reverse polarity protection on voltage input
Specifications
Accepts input voltages from 5 V to 14 V
Individually configurable output voltages from 2.5 V to 14 V
Output voltage resolution of 0.01 V
~12 W available per output at any voltage level (e.g. the maximum continuous current per output is 2.5 A when the output voltage is 5 V)
Output voltage ripple less than 40 mV at 200 mA
Buck-boost topology allows the input to be above, below, or equal to the outputs
People often buy this product together with: