Pololu Robot Chassis RRC01A Transparent Red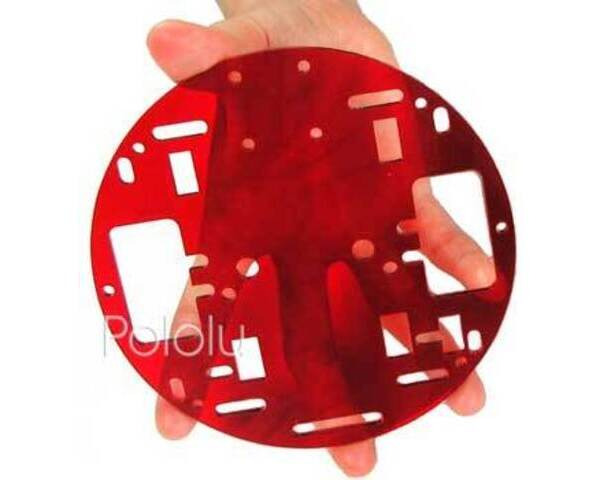 Alternatives available with variations in these parameter(s): color Select variant…

Compare all products in Pololu Robot Chassis RRC01A.
This circular laser-cut plastic robot chassis makes a great base for small mobile robots. With a diameter of only five inches (slightly bigger than a CD), this acrylic chassis is ideal for building sturdy robots capable of navigating tight spaces. The circular chassis has many holes and slots for mounting sensors, motors, and other hardware, and they come in a variety of transparent or opaque colors!
To complete the round robot chassis, you need the Tamiya twin-motor gearbox, ball caster, and truck tires – you can save by getting them in one of our chassis completion kits. For a platform for your electronics you can use our 5-inch round prototyping PC board, which matches the chassis perfectly. The 1.25-inch standoff set also works well with the chassis.
If you have your own chassis design in mind, you can get a custom chassis and other custom robot parts made with our laser cutting service.
1. Order a chassis in the color of your choice:
You can order the chassis color shown on this page, or go to the chassis page to order other colors.
2. Order the chassis combination kit that suits your needs:
Single Chassis Completion Kit
– Hardware for ONE robot chassis (with a ball caster and pair of wheels to spare!):
Chassis sold separately.

Dual Chassis Completion Kit
– Hardware for TWO robot chassis:
Chassis sold separately.
People often buy this product together with: