Aluminum Standoff 1.25" x 0.25" 4-40 M-F 4-Pack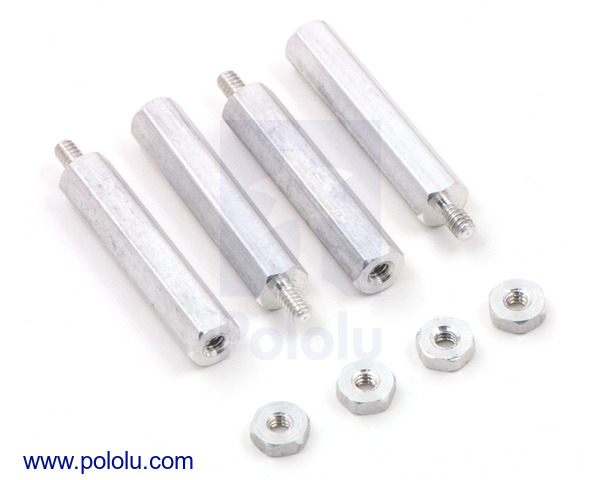 These hexagonal male-female aluminum standoffs keep parts spaced 1.25" (32 mm) apart and are great for building a multi-level robot chassis. Both ends of these 0.25"-wide standoffs have 4-40 threads. This 4-pack of standoffs includes 4 aluminum nuts for securing the top of the standoff to your project.
Alternatives available with variations in these parameter(s): length thread type Select variant…
Note: This product has been discontinued. Please consider the similar (but not identical in all dimensions) Aluminum Standoff 1.25" 4-40 M-F 4-pack as an alternative.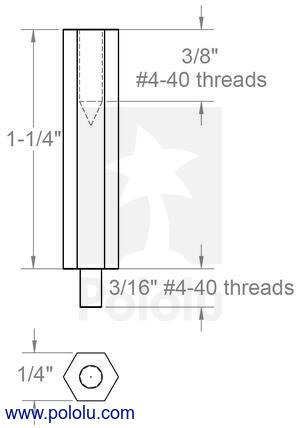 Mechanical drawing of aluminum standoff 1.25″ × 0.25″ 4-40 M-F.
Overview
These hexagonal metal standoffs are great for mounting PCBs to your chassis or to separate multiple levels of decks in your robot. Each male-female standoff is 1.25" long by 0.25" wide, and the threads extend another 3/16" past the standoff – just enough to work well with our 1/8"-thick acrylic chassis. You can easily screw multiple units together to make longer standoffs. The threads are 4-40 on both ends.
Included Hardware
Four 4-40 aluminum nuts are included for attaching the male end of the standoffs to PCBs or chassis. To connect the female end to your project, you will need standard 4-40 machine screws which are available at most local hardware stores.
Sizes
These metal standoffs are available in different lengths and thread types:
Alternatives available with variations in these parameter(s): length thread type Select variant…
People often buy this product together with: