Screw Terminal Block: 7-Pin, 0.1″ Pitch, Side Entry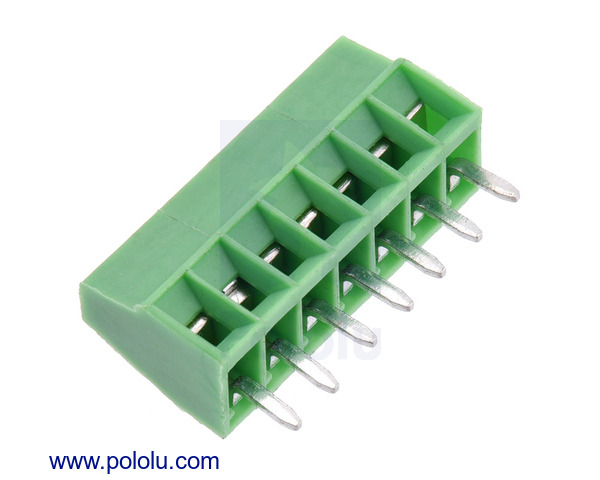 This side-entry screw terminal block has a pitch of 0.1″ (2.54 mm), and can be used as alternatives to standard 0.1″ male or female headers on many PCBs and prototyping boards. It has seven terminals for the stripped ends of 26 – 18 AWG wires and is rated for 150 V, 6 A.
Alternatives available with variations in these parameter(s): pins Select variant…

Compare all products in 0.1″ (2.54 mm) Screw Terminal Blocks.
Overview
These side-entry terminal blocks have terminals that hold and release wires through the simple adjustment of a small screw, allowing you to easily make temporary connections to a PCB. Since each terminal has a single corresponding pin spaced every 0.1″ (2.54 mm), these terminal blocks can be used with prototyping boards and PCB holes intended for standard 0.1″ male and female headers (if there is sufficient clearance from nearby components).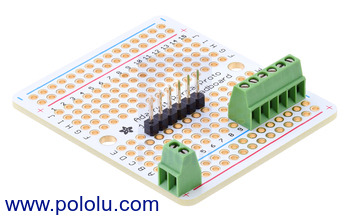 0.1″ terminal blocks and a male header strip in an Adafruit Perma-Proto prototyping PCB.
| | |
| --- | --- |
| 0.1″ screw terminal block being used with a VNH5019 motor driver carrier in place of the included 0.1″-pitch male header. | Using a 4-pin 0.1″ screw terminal block for the motor and motor power connections on the #2136 DRV8801 dual motor driver carrier. |
Nine sizes are available, from 2 terminals through 10 terminals.
Note: These terminal blocks do not slide together like our stackable screw terminal blocks, and they do not fit next to each other on a 0.1″ grid, so you will need to get the exact size required for application. Additionally, they do not work well in solderless breadboards (their pins are too short).
Dimensions
The following dimension diagram is for an N-pin version of this screw terminal block: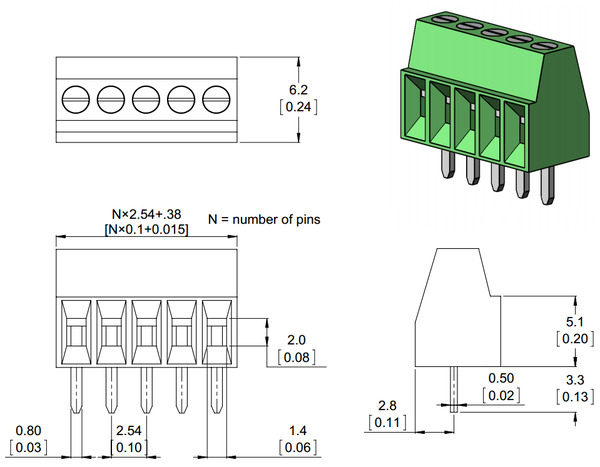 Screw terminal block: 0.1″ pitch, side entry.
Specifications
Voltage rating: 150 V
Current rating: 6 A
Contact resistance: 20 mΩ
Wire gauge: 26-18 AWG
Wire strip length: 4.5 mm
Other terminal block options
We carry several different sizes and styles of terminal blocks in addition to these 0.1″ screw terminal blocks; the picture below shows a side-by-side comparison: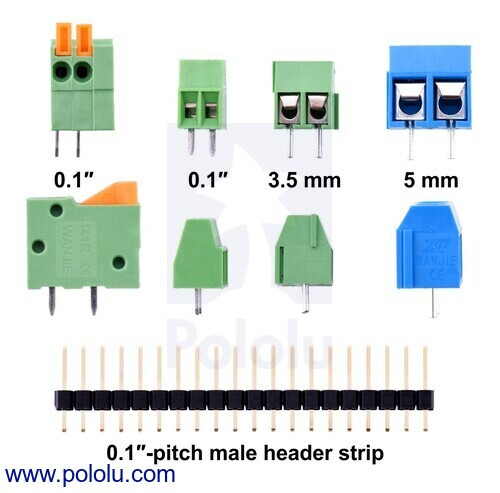 Side-by-side comparison of our different terminal blocks with a 0.1″ male header strip for size reference. From left to right: 0.1″ screwless, 0.1″ screw, 3.5 mm screw, and 5 mm screw.
Alternatives available with variations in these parameter(s): pins spacing orientation Select variant…
Alternatives available with variations in these parameter(s): pins spacing orientation Select variant…
People often buy this product together with: