Vishay TSOP38438 IR Receiver Module, 38kHz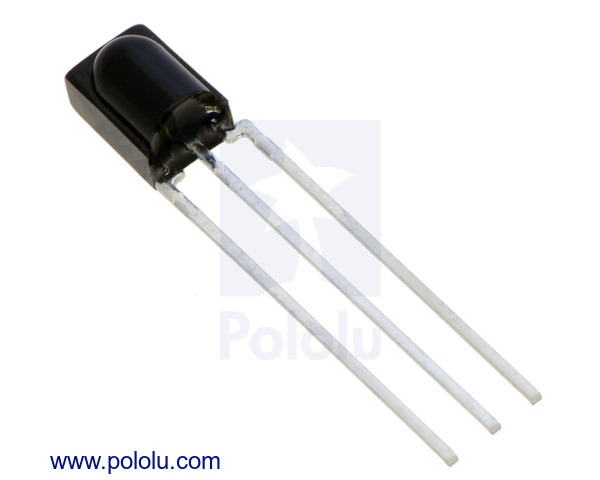 The Vishay TSOP38438 is a general-purpose modulated IR receiver for IR-based remote-control projects. It features a wide operating voltage range of 2.5 V to 5.5 V; this particular unit is tuned for a 38 kHz carrier frequency.

Compare all products in Sensors.
Overview
This IR demodulator from Vishay is a general-purpose receiver for IR-based remote-control projects. It is intended as detector for data formats that are modulated at 38 kHz and have at least 10 cycles/burst; popular IR-codes that meet these requirements are NEC, Sharp, and r-step (our Mini IR Remote Control uses NEC encoding, so it works well with the TSOP38438). The module's output signal can be directly connected to a microcontroller; no additional external components are required. See the TSOP38438 datasheet (132k pdf) for more information.
For a similar IR detector that is tuned for a 56 kHz carrier frequency, see the Vishay TSOP34156.
Modulated IR detector comparison
Part
TSOP34156
TSOP38438
TSSP58P38
TSSP58038
Intended function
IR remote control
brightness/proximity sensing
predictable modulated IR presence sensing
Modulation frequency
56 kHz
38 kHz
38 kHz
38 kHz
Gain (sensitivity)
automatic but inaccessible
automatic, predictable
fixed high gain
Output
binary (data)
analog (pulse width)
binary (on/off)
Update rate
a few kHz
a few Hz
a few kHz
Specifications
Operating Voltage: 2.5 V to 5.5 V
Carrier Frequency: 38 kHz
Package: Through-hole with 0.1″ lead spacing
See the TSOP384 datasheet (132k pdf) for more detailed specifications.
People often buy this product together with: