Vishay TSOP34156 IR Receiver Module, 56kHz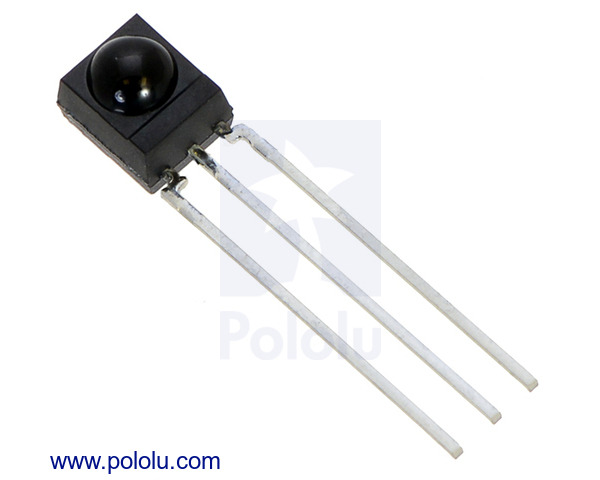 The Vishay TSOP34156 is a general-purpose modulated IR receiver for IR-based remote-control projects. It features a wide operating voltage range and allows for relatively high data rates; this particular unit is tuned for a 56 kHz carrier frequency. This is the IR receiver used in the Pololu IR Beacon.

Compare all products in Sensors.
Description

Specs

(0)

Pictures

(0)

Resources

(1)

FAQs

(0)

On the blog

(0)
Overview
This IR demodulator from Vishay is a general-purpose receiver for IR-based remote-control projects. It is optimized for data rates up to 4000 bits/s and bursts as short as six cycles, and the detector's epoxy package serves as an infrared filter that helps eliminate noise from visible light sources. The operating voltage range is broad enough for 5 V and 3.3 V logic, and unlike some receiver modules, the TSOP34156 allows for continuous reception. The module's output signal can be directly connected to a microcontroller; no additional external components are required.
For a similar IR detector that is tuned for a 38 kHz carrier frequency, see the Vishay TSOP38438.
Modulated IR detector comparison
Part
TSOP34156
TSOP38438
TSSP58P38
TSSP58038
Intended function
IR remote control
brightness/proximity sensing
predictable modulated IR presence sensing
Modulation frequency
56 kHz
38 kHz
38 kHz
38 kHz
Gain (sensitivity)
automatic but inaccessible
automatic, predictable
fixed high gain
Output
binary (data)
analog (pulse width)
binary (on/off)
Update rate
a few kHz
a few Hz
a few kHz
Specifications
Operating Voltage: 2.7 V to 5.5 V
Carrier Frequency: 56 kHz
Max data rate: 4000 bps
Package: Through-hole with 0.1″ lead spacing
See the resources tab for the TSOP341 datasheet.
People often buy this product together with: