Concentric LACT12-12V-20 Linear Actuator: 12" Stroke, 12V, 0.5"/s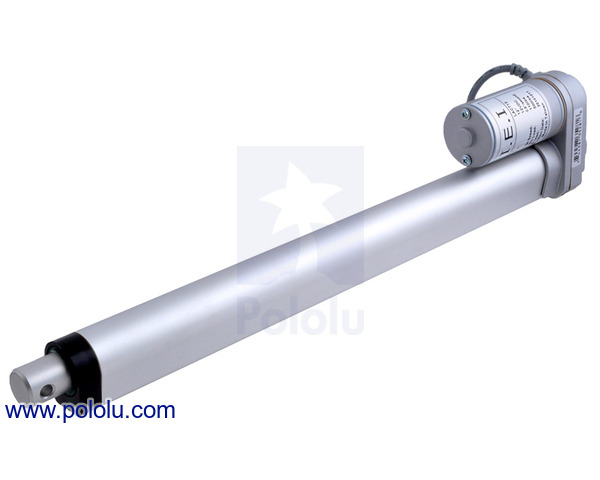 This 12 V linear actuator can be used in a variety of heavy-duty applications. The motor has 20:1 reduction gearbox that gives the actuator a dynamic load rating of 110 lbs (50 kg) and a maximum speed of 0.5 in/s (1.3 cm/s), and it is rated to withstand up to 500 lbs when not moving. Limit switches at each end make the actuator easy to control over its full range of motion, and the worm drive ensures that the shaft will hold its position even when unpowered. This version has a 12-inch stroke and no potentiometer.
Compare all products in Concentric Glideforce LD Series Linear Actuators.
Dimensions
| | |
| --- | --- |
| Stroke: | 12 in |
| Weight: | 48 oz |
General specifications
| | |
| --- | --- |
| Gear ratio: | 20:1 |
| Free-run current @ 12V: | 500 mA |
| Stall current @ 12V: | 10 A |
| Linear speed @ 12V: | 0.5 in/s |
| Linear force @ 12V: | 110 lb1 |
| Maximum duty cycle: | 25%2 |
| Feedback potentiometer included?: | N |
Notes: